The National Highway and Transportation Safety Administration (NHTSA) announced its regulation in late June 2022 for truck underride guards. The new ordinance aims to reduce deadly underride truck accidents amid the nationwide spike in fatal accidents. 
What are Underride Guards?
Underride guards can save lives. They are metal bars that hang from the back of trailers hauled by big rigs. Their purpose is to prevent vehicles from sliding underneath trucks during crashes. Without them, accidents can be fatal because the smaller vehicle's top gets completely sheared off by the trailer. As a result, the occupants are often killed or sustain severe, sometimes permanent, injuries. If you've been involved in an underride accident, it's important to call a truck accident attorney to build your case, so you get the compensation you deserve.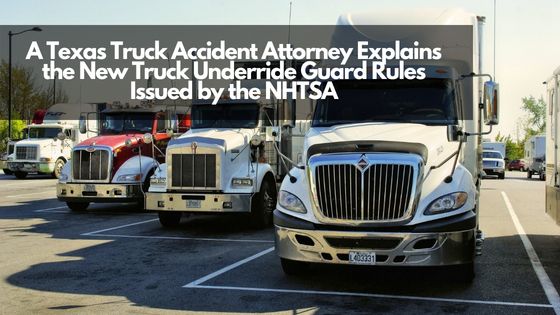 Researchers estimate that 80 to 90 percent of underride truck accidents are deadly. For this reason, the federal government requires tractor-trailers to have underride guards subject to federal strength and safety standards.
New Underride Guard Rule
As mentioned above, underride guards prevent smaller vehicles from sliding underneath the truck in the event of a collision, reducing the accident's fatality. Unfortunately, not all guards can withstand the impact. 
To ensure trucks and trailers have durable guards, the NHTSA set a standard to guarantee safety. The underride guards must be capable of withstanding the impact of a rear-end hit by a vehicle traveling at 35 mph. In addition, a nationwide surprise roadside inspection will be conducted on commercial tractor-trailers throughout the following months to check if trailers have underride guards that fulfill the current safety standards.
Road Safety advocates have commended the NHTSA for setting this improvement. However, many have expressed their disappointment that the federal agency's new rule needs to go further to make a notable difference since this ordinance does not cover large semi-trucks.
Trucking Companies are Not Happy with this New Rule
The trucking industry is heavily against any law or regulation that requires them to install underride guards in their commercial vehicles. These guards will be costly and time-consuming for trucking companies. They have been a significant opponent of the Stop Underrides Act since they were introduced in Congress in 2015. They argue that the underride guards are ineffective in preventing accidents, and the benefits do not justify the costs. According to them, the cost of adding guards to every truck would put many trucking companies out of business.
Fatal Truck Underride Accidents
Fatal truck accidents are monitored and analyzed by the NHTSA. Unfortunately, the records do not specify whether missing or weak guards caused the wreck. For this reason, it makes it difficult to estimate how frequently underride collisions occur.
Thankfully, there are ongoing efforts to address this issue. For example, Stop Underride is an advocacy organization that aims to quantify collisions caused by weak underride guards. The group collected fatal truck crash data to determine how many people have lost their lives in underride accidents. They discovered that approximately 600 people die in underride accidents nationwide yearly. Moreover, Stop Underrides estimates 337 deaths from 1994 to 2015 due to underride accidents.
A Texas Truck Accident Attorney Handles Complex Cases
Cases involving truck accidents are always complicated. Multiple parties are involved, including the trucking company and insurers notorious for not wanting to take responsibility for the victim's losses. Therefore, working with an experienced truck accident lawyer can make all the difference. With a knowledgeable professional working closely with you to build your case, you have better chances of winning in court. 
It's importany to seek immediate legal representation if you or your loved one were involved in an underride accident. Reach out to a truck accident attorney so your legal team can conduct an extensive investigation on the accident's location. Unfortunately, the longer you wait, the weaker your evidence gets. In most cases, evidence is even wiped out from the scene, making the victim lose valuable information that may have helped their case. 
A truck accident lawyer from David Kohm offices will help you fight for the results you deserve. Call the Law Offices of David Kohm today to learn more about our options. We offer free consultations at any of our locations.
Arlington (817) 522-4451

Dallas (972) 362-6848

Fort Worth (817) 764-1375

Plano (972) 354-4602

Cedar Hill (972) 338-9427

McKinney (469) 522-3688

Lewisville (972) 354-4605

Frisco (972) 725-7681

Grapevine (817) 835-8677

Irving (972) 354-4610

Keller (817) 204-0904

Garland (214) 572-2251

Denton (940) 222-4060

Addison (972) 564-8108
You can also contact us online by using our quick contact form.