It's the objective of anybody who files for bankruptcy to get out from under crushing debt. It should also be the objective of that debtor to legally protect assets that he or she has from being seized and liquidated for the benefit of creditors. What many debtors don't know is that the U.S. Bankruptcy Code allows them certain exemptions that operate to protect property owned by them. These exemptions are different from state to state. It is important to consult a bankruptcy attorney to find out what those exemptions are.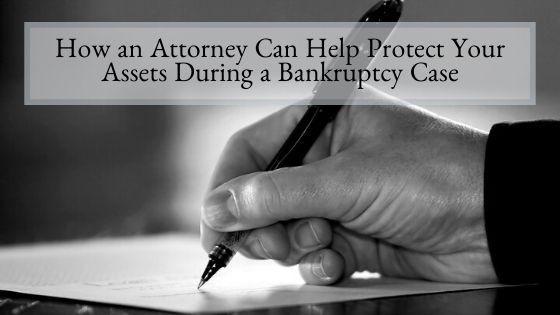 Texas Bankruptcy Exemptions 
Texas exemptions for bankruptcy petitioners are some of the most favorable in the United States. Here are a few key features from the Texas Property Code: 
For purposes of the home exemption, the primary residence of a Texas debtor is protected regardless of its value, but there are acreage limits.
As for personal property, that can include motor vehicles, home furnishings, jewelry and even livestock. A single adult can keep up to $50,000 of specified personal property. A married couple can keep up to $100,000 of it. Value isn't computed at the property's replacement value. It's calculated at depreciated fair market value.
Your qualified retirement plan, 401(k), and IRA are exempt from creditors.
Farm and ranch vehicles, and machinery are generally exempt as well as other equipment and tools.



Common Reasons Why Your Assets May Be Seized 
If you fail to disclose an asset, it's subject to seizure and sale. Even worse, your bankruptcy petition can be dismissed. For example, if you fail to disclose a 401(k), you can lose it, regardless of the fact that protection of it is available. Changing an asset's status or ownership are two other ways that the assets might be lost. 
How We Can Help 
The first thing that we can do for you is to advise you on whether you should seek protection under Chapter 7 or Chapter 13 of the U.S. Bankruptcy Code. Exemptions in Texas are so liberal that many of our clients opt for a simple Chapter 7 proceeding. Others have their own sets of circumstances and might want to file pursuant to Chapter 13. We can help you make an informed decision. After we prepare and file your bankruptcy petition, we'll forward notice of the filing to your creditors. That should stop any collection, repossession or foreclosure actions through an automatic stay. 
You Want to Make an Educated Decision 
There are complicated state and federal laws for clients to consider before filing for bankruptcy, and you're going to need a complete understanding of your legal options. You don't want to make decisions about your financial future without having considered all available information. 
Identification of All Assets 
When people try to represent themselves in the bankruptcy courts without the benefit of an attorney, the most common mistake that they make is not identifying all of their assets. A full and complete discussion with a bankruptcy lawyer from our office is fundamental in any successful bankruptcy case. You'll be far better off being safe rather than sorry. Assume nothing in connection with your assets and debts, and if you're contemplating the transfer of an asset's status or ownership, advise your attorney accordingly. 
We're sympathetic with the fact that bad things can happen to good people, and we treat all of our clients with dignity and respect. We'll do everything that we can to get you out from that crushing debt while protecting as many of your assets as possible. Call our offices today at any of our convenient locations and get a free consultation.
Call our law offices today at any of our convenient locations and get a free consultation.
Arlington (817) 522-4451
Dallas (972) 362-6848
Fort Worth (817) 764-1375
Plano (972) 354-4602
Cedar Hill (972) 338-9427
McKinney (469) 522-3688
Lewisville (972) 354-4605
Frisco (972) 725-7681
Grapevine (817) 835-8677
Irving (972) 354-4610
Keller (817) 204-0904
Garland (214) 572-2251
Denton (940) 222-4060
Addison (972) 564-8108 
You can also contact us online by using our quick contact form.