There used to be a certain level of embarrassment associated with filing for bankruptcy. However, the subject is no longer taboo, and many individuals and businesses are seeing it as a viable solution for eradicating insurmountable debt. And although declaring bankruptcy can be the appropriate way to remove oneself from a sticky financial situation, embarking on this endeavor should not be taken lightly. Filing for bankruptcy can be complicated. In order to ensure the best possible result, it's important to hire an experienced bankruptcy attorney.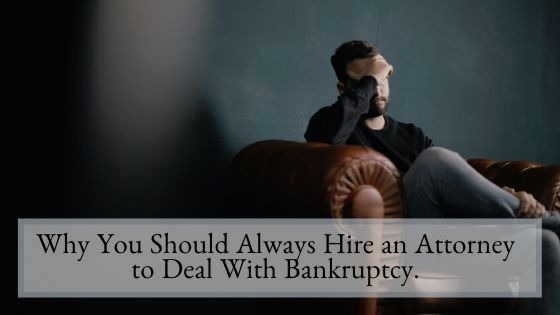 Assess Your Finances 
There are several reasons to hire a bankruptcy attorney but first and foremost, a lawyer can help you decide if filing for bankruptcy is the best option for you. A skilled attorney will assess your financial situation and offer sound advice about your available options. In addition, your lawyer will give you a detailed explanation of your legal responsibilities if you decide that filing is the best option for you. 
Stopping Creditor Harassment 
Bankruptcy lawyers can contact your creditors and stop the irritating phone calls and harassment that typically occurs with collection agencies. Not only will this ease your state of mind, but will also allow you the time to concentrate on regaining financial stability. A responsive attorney will advise you on abusive creditor actions and explain your rights in this process. Besides putting a stop to the intimidating tactics by creditors, a bankruptcy lawyer can help you defend yourself if a creditor refuses to discharge your debt. 
Counsel in Navigating Through the Bankruptcy Process 
Bankruptcy laws are rather complex. Deciphering the complicated regulations and codes associated with bankruptcy can be difficult. Your bankruptcy lawyer will walk you through the convoluted legal guidelines of the process. The legalities can be confusing, so having an attorney guide you through the steps can make an already overwhelming experience easier to handle. 
Assisting in the Discharge of Debts 
It is unlikely that all your debts will be discharged without conflict when filing for bankruptcy. Changes in bankruptcy law have also made it more difficult. An experienced bankruptcy lawyer can advise you on which chapters to file and help you utilize bankruptcy exemptions. For instance, filing chapter 7 allows you to retain most of your personal assets. An attorney will help you choose the appropriate actions that will benefit you financially in the future. 
Assure That Your Petition is Accurate 
There is a tremendous amount of paperwork involved when filing for bankruptcy. It's important that all your documents are error free because your petition will have a detailed account of all your finances. Your lawyer will make sure that all paperwork is completed correctly and ensure that you meet the required deadlines when filing the necessary documents. Committing fraud when filing for bankruptcy is a felony so it's imperative to make sure that all your documents are accurate. 
Offer Legal Counsel 
A competent bankruptcy lawyer will offer you sound council based on all of their experience and expertise. Your lawyer will help you understand where you're at in every stage of the bankruptcy process and and provide you with the certainty of knowing you're on the right track. Hiring a bankruptcy lawyer will not only reduce your stress, but also save you time and money by preventing you from making costly mistakes. 
Providing Peace of Mind 
There is no substitute for peace of mind. The process of filing for bankruptcy can be frustrating and stressful. Having a supportive and knowledgeable lawyer by your side can relieve the anxiety and fear that's commonly felt during this process. The reliable council of a dedicated attorney is indispensable in leading you to a positive resolution. 
Call our law offices today at any of our convenient locations and get a free consultation. 
Arlington (817) 522-4451 
Denton (940) 222-4060 
Dallas (972) 362-6848 
Fort Worth (817) 764-1375 
Cedar Hill (972) 338-9427 
McKinney (469) 522-3688 
Lewisville (972) 354-4605
Frisco (972) 725-7681
You can also contact us online by using our quick contact form.