Slip and fall accidents can result from the negligence of a building owner, landlord or another party. These accidents can lead to severe injuries, rendering victims unable to work and perform daily functions.
Estimates from the Occupational Safety and Health Administration (OSHA) show that an average of over 200,000 non-fatal slip and fall accidents occur in the United States annually. These accidents are also the leading cause of death in the construction industry.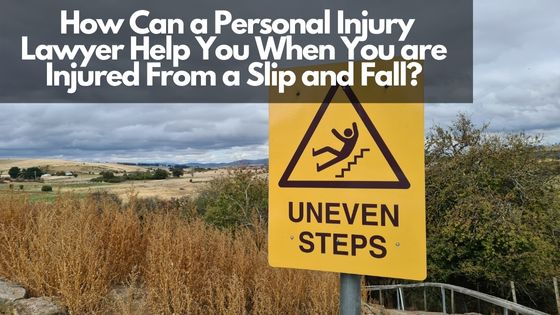 Why You Should Retain the Services of a Personal Injury Attorney
Unfortunately, some individuals only want to work with a personal injury lawyer if a case goes to trial. However, your attorney can do more for you before litigation. For instance, they can help gather evidence beforehand and help you process insurance claims.
Here are some of the other ways your attorney can help you:
Establish the Liability of the Other Party
It helps to determine and establish the liability of the property owner or manager using corroborative evidence. Your lawyer can assess the conditions that led to the accident and ascertain the cause of the fall. These professionals can also determine if there was negligence on the part of the parties responsible for the safety of the premises. In addition, your lawyer can also identify if the cause was something purely unavoidable.
Protect You From Unfair Settlements
Many insurance companies will offer a quick settlement to accident victims. However, these settlements aren't commensurate with the claim that you make. In many instances, insurance adjusters will lowball a claim, which only protects their company's bottom line, not providing fair compensation to the accident victims.
A seasoned personal injury attorney can protect you from these unfair settlements. These professionals can build your case and improve your chances for a higher insurance claim. They can help you secure compensation not only for your current needs but also for future losses. If the insurance company denies your claim, they can help you take the case to court.
Sometimes, your personal injury lawyer will have to escalate matters to the courts. Your lawyer will help you file a personal injury lawsuit, meeting all documentary and other requirements in the most timely manner.
Professional personal injury attorneys can also help you comply with specific deadlines and the other essentials of your case. For instance, you must comply with your area's statute of limitations and submit all the necessary paperwork in time.
Injuries You Can Sustain in a Slip and Fall Accident
Slip and fall accidents can cause serious injuries, so your personal injury attorney will take detailed notes and copies of medical records. The facts gathered from the evidence will help you secure a higher insurance claim and more compensation in case you need to go to court.
Some of the injuries reported by victims include the following:
Broken Bones:

The most common injuries that people sustain from slip and fall accidents include hip fractures, broken wrists, fractured ribs, broken legs and broken arms. Some fractures can occur in multiple body parts, which increases the claim since fractures restrict your movement.

Spine and Nerve Damage:

Back injuries can result from a slip and fall, which causes intense pain, numbness, tingling, weakness and, in worst-case scenarios–paralysis.

Dislocated Shoulders:

Shoulder dislocation is quite painful and can prevent people from going to work and impede their daily functions.

Sprained Ankles, Wrists and Knee Injuries:

Some body parts usually get injured when you fall to the ground. People typically put their arms out when they fall, which causes injury to critical joints in the body. These injuries can severely interfere with a victim's life, causing trouble and suffering.

Soft Tissue Injuries:

These injuries often occur on the muscles, tendons and other body parts. They can cause bruising, swelling, pain and even permanent tissue damage.

Traumatic Brain Injuries:

These are the worst injuries that can happen to anyone. When someone slips and falls, there is a good chance that they can hit their head on the floor or other hard surfaces. In the worst cases, a fall can cause traumatic brain injury. However, some people don't realize they have this type of injury, leaving the brain untreated for months.
Common Causes of Slip and Fall Accidents
In many instances, the primary cause of these accidents is the negligence of the party responsible for the property. Some of the potential factors that cause these accidents include:
Poor property maintenance

Failure to secure rugs and carpets

Improper handrail maintenance and repair

Failure to provide hazard warnings

Not fixing leaks in the property even after it was reported

Failure to remove obstructions in hallways and other paths
Work with a Seasoned Slip and Fall Attorney
Working with a seasoned personal injury attorney will help you secure a better insurance claim and the compensation you deserve if the case goes to court.  
Call the Law Offices of David Kohm at our convenient locations today and get a free consultation.
Arlington (817) 522-4451
Dallas (972) 362-6848
Fort Worth (817) 764-1375
Plano (972) 354-4602
Cedar Hill (972) 338-9427
McKinney (469) 522-3688
Lewisville (972) 354-4605
Frisco (972) 725-7681
Grapevine (817) 835-8677
Irving (972) 354-4610
Keller (817) 204-0904
Garland (214) 572-2251
Denton (940) 222-4060
Addison (972) 564-8108
You can also contact us online by using our quick contact form.