A traumatic brain injury (TBI) can be caused by a variety of things. The most common causes are serious road accidents, falls and shootings. Individuals serving in the military may also experience TBI if they are in close proximity to bombs while in combat. A traumatic brain injury can result in injuries that vary from mild and temporary to permanent and severe. If you or a loved one has a traumatic brain injury and is looking to obtain Social Security Disability benefits it is imperative that you retain the services of a Social Security Disability attorney. They will be able to assist you with these types of complex cases.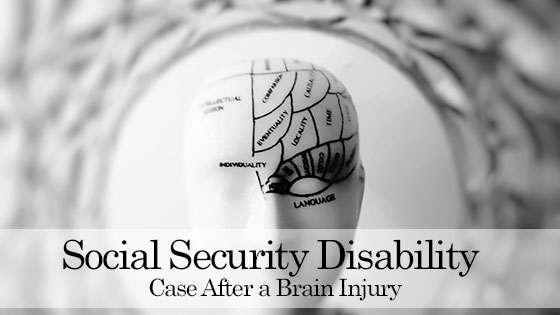 A person who experiences a TBI can be left with a number of challenges. They may have physical and cognitive difficulties as well as problems concentrating, mood or personality changes and social functioning issues. In some cases, the individual may even have speech and communication problems that require therapy. However, unfortunately, many of these problems may not improve. A Social Security Disability attorney will be able to assist you in determining your eligibility and also providing you the proper legal advice that you will need in order to navigate these types of cases. 
Social Security Disability Benefits for TBI
If you have suffered a traumatic brain injury, it is possible to recover Social Security disability benefits. Since October 2016, TBI has been considered an impairment. However, there are certain requirements in order for an injury to be considered TBI. According to Social Security, TBI is brain damage that is caused by a fractured skull, closed head injury or the brain being penetrated by a foreign object. You can qualify for disability benefits if your medical records document the following situations: 
Unable to control the movement of two or more extremities for a minimum of three months after sustaining the injury. It must also prevent the individual from balancing while walking, standing or rising to a standing position.

Marked physical difficulties with a marked physical limitation for at least three months after the injury. This would have to include problems with thinking, social situations, finishing basic tasks and behavioral issues.
In order to qualify for Social Security disability benefits for TBI, the individual would have to have at least one of the two above issues. 
What if Social Security Benefits are Denied?
It's important to know your rights when you become injured with a TBI. If you file for Social Security disability benefits but are denied because it doesn't believe your limitations are severe enough to be considered a disability, Social Security must then evaluate whether those limitations are preventing you from working. To assess your limitations, it will use physical residual functional capacity (RFC) and mental residual functioning capacity (MRFC) forms. Your Social Security Disability attorney will be able to assist you in making sure that you avoid the common pitfalls many individuals seeking Social Security Disability Benefits make. 
When to Hire a Social Security Disability Lawyer
Generally speaking, most Social Security disability claims are denied at the beginning of the claim but later reconsidered after Social Security investigates the situation. This is not an exception when TBI is involved if it doesn't include the above criteria. At the same time, hiring a Social Security Disability attorney can greatly help your chances of a successful outcome with your claim. The lawyer can help you to fill out your claim and include all the pertinent information to serve as evidence to back it up. They can also appear at a hearing before an administrative law judge on your behalf, which is necessary before you can begin receiving benefits. 
Documentation that can serve as evidence for your claim may include the following: 
Emergency room records

Notes from doctor visits

Notes from your caseworker or counselor

MRI, X-ray and other test results

Neuropsychological test results

Notes written by family members, friends or employers
Call our law offices today at any of our convenient locations and get a free consultation with a Social Security disability attorney. 
Arlington (817) 522-4451
Dallas (972) 362-6848
Fort Worth (817) 764-1375
Plano (972) 354-4602
Cedar Hill (972) 338-9427
McKinney (469) 522-3688
Lewisville (972) 354-4605
Frisco (972) 725-7681
Grapevine (817) 835-8677
Irving (972) 354-4610
Keller (817) 204-0904
Garland (214) 572-2251
Denton (940) 222-4060
Addison (972) 564-8108 
You can also contact us online by using our quick contact form.