If you are disabled and received social security disability benefits, you should be careful about certain practices. One issue that can arise is whether you can continue to receive benefits if you drink or abuse drugs. Another concern you might have is that if you struggle with alcoholism or drug addiction and wonder if you can still get social security benefits. Residents of the state of Texas who fall under either category can benefit by learning about your options and how a social security disability lawyer can help you.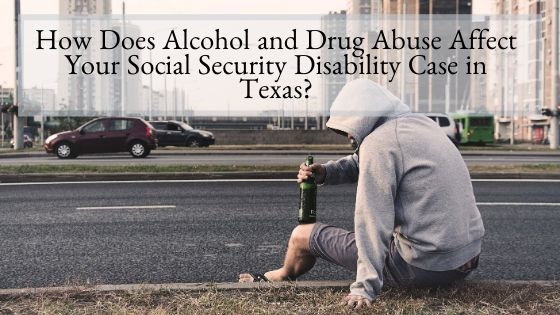 Do Alcohol or Drugs Contribute to the Disability? 
Generally speaking, if alcohol or drug use is a material contributing factor to your disability, you would not qualify for social security disability benefits. However, if you suffer from a disability that is made worse by using drugs or alcohol, it's possible to be able to get disability benefits. There is an evaluation known as a drug and alcohol abuse determination or DAA determination. If you undergo the evaluation and you have a disability that is completely unrelated to using or abusing alcohol or drugs, you can still receive social security disability benefits. 
Could the Disability Improve Without Alcohol or Drugs? 
When you have a disability and are seeking benefits but have also been abusing alcohol or drugs, the Social Security Administration (SSA) will want to know whether the condition can improve if you stop using. For instance, if you suffer from a seizure disorder and your alcohol or drug abuse exacerbates the condition, if you were to quit, you might experience fewer seizures. In that situation, the SSA might claim that your drug or alcohol abuse is material to your condition and would most likely deny you benefits. On the other hand, if the number of seizures you experience doesn't change if you quit drinking or abusing drugs, you would qualify for benefits because the substance would be determined immaterial. 
What if Drug or Alcohol Abuse Caused the Condition? 
Whether or not you previously abused drugs and alcohol and it led to the development of your medical condition, you can claim SSA benefits. A person can apply for disability benefits if they have developed hepatitis or a liver disease caused by alcoholism. They may have a history of alcohol abuse and may have recently drunk. It's fair to wonder whether the alcoholism would affect the individual's disability claim. However, it depends on whether or not the alcohol abuse is material to the condition. In this case, where the individual suffers from a liver disease, the condition would not go away simply because the person stopped drinking alcohol. 
What Happens if There is Evidence of Alcoholism or Drug Addiction? 
If the SSA finds out that you are addicted to drugs or alcohol, regardless of how it learned of the addiction, a medical consultant will investigate to determine if there is truly an addiction. They will explore evidence from a doctor, psychologist or psychiatrist and by speaking to members of your family. If you have a history of attending rehab, it serves as sufficient evidence that you have a legitimate addiction. However, if you're self-medicating to deal with a medical condition, you may not qualify for SSA disability benefits. On the other hand, if the medical consultant determines that you have a legitimate addiction, you can receive benefits. 
If you require the assistance of a Social Security disability lawyer, call our law offices today at any of our convenient locations and get a free consultation. 
Arlington (817) 522-4451
Addison (972) 564-8108
Denton (940) 222-4060
Dallas (972) 362-6848
Garland (214) 572-2251
Fort Worth (817) 764-1375
Cedar Hill (972) 338-9427
McKinney (469) 522-3688
Lewisville (972) 354-4605
Frisco (972) 725-7681
Grapevine (817) 835-8677
Irving (972) 354-4610
Keller (817) 204-0904
Plano (972) 354-4602 
You can also contact us online by using our quick contact form.