When it comes to getting Social Security disability, you hear a lot of stories about people who had to fight ferociously to get on it. Failing to hire a Social Security Disability attorney can mean the difference between being accepted or being denied. An experienced attorney has the knowledge to present your case and understands the ins and outs of the Social Security Disability system and what the courts want to see and hear. As many people can attest, they were denied because they chose to represent themselves.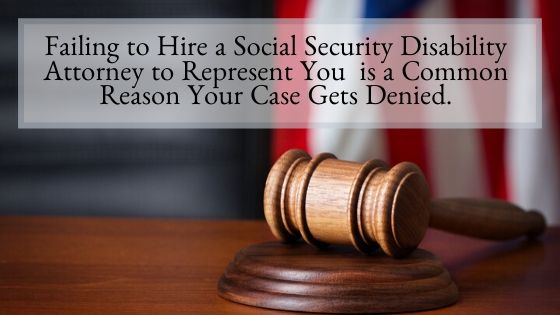 Get a Specialized Attorney
It is important to note, you don't want a general attorney when it comes to your Social Security Disability case. You want someone who understands the Social Security system and they regularly practice representing individuals looking to obtain Social Security Disability. They understand what it takes to fight for someone so that they can receive help for their disability. These laws can be extraordinarily tricky, and having an attorney who understands what works and what doesn't can mean the difference between an approval and a rejection. 
Reasons Someone Might Get Denied
You have a few different reasons that someone might get denied. Some of the reasons include: 
Lack of medical evidence

Failure to cooperate

Too high of an income

Fails to follow treatment

Past denials 
Important to note, you need to have medical evidence to prove that you have this condition. You need a lot of medical evidence. It will show how working has become impossible because of your disability. Let's say that you see your doctor every month for severe back pain, but you don't get documentation of this. You could still have your claim denied. 
Failure to cooperate and fully disclose your medical history can become a problem. It is important that the Social Security DIsability applicant fully disclose to their attorney all medical providers they have seen and the nature of all treatments they have received. If for instance some medical providers are not fully disclosed it often becomes difficult for the attorney to properly prepare the applicant's case. 
Next, you may have too high of an income. However, an experienced Social Security Disability attorney can often find ways to explain how that income will diminish due to your disability. 
Also, you may have past denials. Many times, people don't realize that instead of opening a new case, they can appeal a denied one. Finally, you have cases where people didn't follow through with medical treatment. For those who don't first try to follow through with the treatment their doctor prescribed, they can have their claim denied. An experienced Social Security Disability attorney will be able to develop a strong case in explaining why you failed to finish your medical treatment. They will have a good idea of what the court would like to hear and they will be able to present this in the correct manner to give you the best opportunity of approval. 
Experience Makes a Difference
When it comes to social security applications, they have a 70 percent rejection rate, which only highlights a further need for hiring an experienced Social Security Disability lawyer. Hiring an attorney to represent you gives you the best chance to be successful. An attorney will also be able to direct you to the proper medical professionals who are experienced with Social Security Disability cases. These medical professionals will be able to document your disability properly to give your case the best chances of success. An experienced Social Security Disability attorney will look at what worked with past cases and use this as an advantage to winning your case.
Call our law offices today at any of our convenient locations and get a free consultation. 
Arlington (817) 522-4451
Dallas (972) 362-6848
Fort Worth (817) 764-1375
Plano (972) 354-4602
Cedar Hill (972) 338-9427
McKinney (469) 522-3688
Lewisville (972) 354-4605
Frisco (972) 725-7681
Grapevine (817) 835-8677
Irving (972) 354-4610
Keller (817) 204-0904
Garland (214) 572-2251
Denton (940) 222-4060
Addison (972) 564-8108 
You can also contact us online by using our quick contact form.