It is common knowledge that driving in unfavorable weather conditions will increase the probability of getting into an accident. There are a multitude of weather conditions that prove to be dangerous and even life threatening if not responded to properly. Big rig truck drivers or commercial vehicle operators must take extra precaution on the road in general, but especially during extreme weather conditions. As truck drivers likely face a wide range of weather conditions along their routes, slippery roads tend to be a large contributor to accidents in the Dallas, Texas area. If you were involved in a large truck accident in Dallas due to slippery road conditions it is important that you contact an experienced truck accident attorney.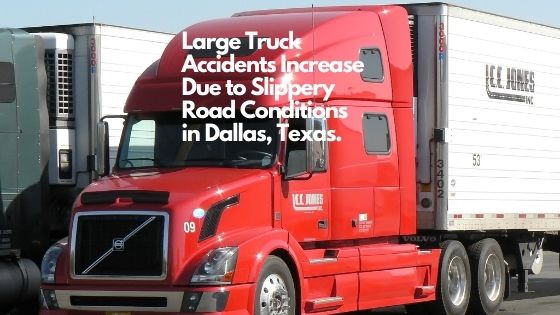 Slippery Roads Can Be Caused By a Number of Conditions
The most common weather conditions that can negatively impact a driver due to their likelihood to cause a slippery road condition, these include:
Rain.

Heavy rain can decrease visibility as well as cause flooding and an increased chance for hydroplaning.

Fog.

Thick fog can drastically decrease visibility down to a field of vision less than five feet.

High winds.

Strong and fast winds are particularly dangerous for trucks due to the size of their trailers. Since trailer compartments are not aerodynamic, strong winds can jostle, tip, and push them to a point where the entire truck could jackknife or roll over if the driver doesn't compensate.

Snow/ice.

Although snow and ice are not common problems for Tennessee drivers, if the temperature drops and snow begins to fall, it can make roads very slippery. Since trucks have a much longer stopping distance than regular vehicles, even the smallest slide could cause a trucker to lose control if he isn't paying attention to driving conditions.
Although all of these conditions can make driving more dangerous for a trucker, it is ultimately the driver's responsibility to respond to the conditions and adjust his driving behaviors in the interest of safety.
Responsibilities of Big Rig Truck Drivers on Slippery Roads
Commercial truck drivers have a responsibility to be cautious when driving in hazardous conditions. 
Drivers must use sound judgment and drive defensively.

No matter how confident a driver may be in his abilities to drive in bad weather, he must still exert extreme caution around other vehicles, whose drivers may not be as skilled. If the weather becomes too dangerous (again, using sound judgment), drivers must pull off and wait for the hazardous weather to pass.

Drivers must reduce their speed.

No matter the potential hazard, if the weather has affected road traction or visibility in any way, drivers must decrease their speed to prevent jackknives and hydroplaning.

Drivers must use their lights.

When visibility is even slightly compromised, truckers must use their lights to emphasize their location to other drivers.

Drivers must be prepared to stop at a moment's notice.

Since trucks have a longer stopping distance than smaller vehicles, drivers must be able to apply their brakes as controlled and as quickly as possible during an emergency. If a trucker isn't paying attention and applies the brakes too late, he runs the risk of rear-ending a vehicle in front of him.
When a truck driver ignores these rules and causes an accident, an experienced truck accident attorney can help you establish his legal liability for any injuries sustained in the accident—no matter how slippery the road conditions were.
An Experienced Truck Accident Attorney Can Help
Commercial trucks and big-rigs often have complex insurance plans, and reaching a proper settlement amount may be difficult. In the event that your accident claim is not paid, suing for compensation is complicated and time-consuming. If you have been the victim of a trucking accident while driving in bad weather, you need the help of a Dallas truck accident attorney to fight for your rights. An experienced attorney will know that collisions involving a big rig is likely to result in serious injuries that may render you unable to work for weeks or months afterward. Your attorney can make sure that you receive the full amount of compensation you deserve to cover your hospital bills, vehicle repairs and the pain and suffering you have endured. Call our law offices today at any of our convenient locations and get a free consultation. 
Arlington (817) 522-4451
Dallas (972) 362-6848
Fort Worth (817) 764-1375
Plano (972) 354-4602
Cedar Hill (972) 338-9427
McKinney (469) 522-3688
Lewisville (972) 354-4605
Frisco (972) 725-7681
Grapevine (817) 835-8677
Irving (972) 354-4610
Keller (817) 204-0904
Garland (214) 572-2251
Denton (940) 222-4060
Addison (972) 564-8108 
You can also contact us online by using our quick contact form.