The Law Offices of David Kohm have experienced Plano motorcycle accident attorneys that can assist you if you or a loved one were involved in a motorcycle accident. As per the most recent statistics from the National Highway Transportation Safety Administration (NHTSA), 5,286 people were killed in motorcycle accidents in the United States in 2016. That was a 5.1 percent increase from the prior year. Of those, 4,950 were drivers, and 336 were passengers. It's estimated that at least 100,000 other motorcyclists suffered injuries in crashes. That same year, 463 motorcyclists and 33 passengers died on Texas roadways while about 2,000 others suffered serious injuries. As you can see based on the numbers, while driving a motorcycle is an enjoyable mode of transportation it can be very dangerous.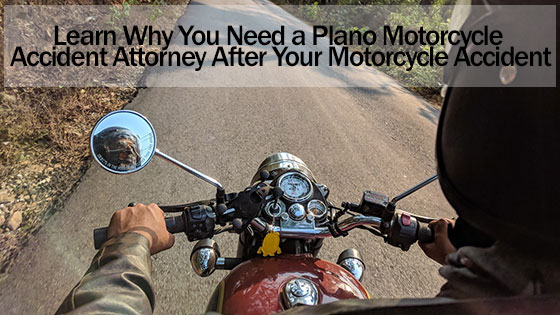 Consequences of Motorcycle Accidents
If you have been injured in a motorcycle accident in or around Plano that was caused by the carelessness and negligence of somebody else, feel free to contact a motorcycle accident lawyer here at the Law Offices of David Kohm. We know that if you're in a motorcycle crash, the physical, mental and emotional consequences can be extreme. You will be needing an attorney with extensive experience in representing injured victims of motorcycle crashes. Texas motorcycle accident attorney David Kohm uses all legal procedures necessary to push your motorcycle accident case from start to finish.
Motorcyclists are Vulnerable to Being Injured
Other than maybe a helmet, nearly all motorcyclists are unprotected and exposed to serious injuries or even death. That vulnerability coupled with high speeds are two of the major reasons why 98 percent of all motorcycle accidents result in injuries. The NHTSA reports that the rider of a motorcycle is 37 times more likely to die in a motorcycle crash and eight times more likely to be injured than a driver or occupant of a passenger vehicle. When there are extensive injuries and medical records, this adds a layer of complexity to your case. Due to this it is important that you consult and retain an experienced motorcycle accident attorney to assist you when filing a claim, dealing with insurance companies and possibly going to court.
Common Motorcycle Accident Injuries
According to the Traffic Safety Center at the University of Southern California, when a motorcycle is involved in a crash with another vehicle, the driver of that other vehicle caused the crash about 66 percent of the time. The most frequent crash scenario is at an intersection with the driver of the other vehicle who failed to yield the right-of-way to the motorcyclist when the motorcyclist was traveling straight ahead and the motorist was turning left. The motorcyclists had an average of less than two seconds to try to avoid the crash. Here are some of the common injuries that were found:
Fractures of the foot, ankle, lower leg, knee, upper leg and thigh.
Traumatic brain and spinal cord injuries.
Damage to internal organs.
Hand, arm and shoulder injuries from instinctively trying to break the fall.
Severe road rash with infection.
As stated above, serious injuries due to a motorcycle accident complicate your legal claim. A motorcycle attorney can alleviate any stress in not understanding the procedures and laws to obtain the settlement that you deserve.
Damages
The damages that a motorcyclist can suffer in an accident are just one of the reasons why an injured motorcyclist should contact our offices. Those can include the following:
Overwhelming past and future medical bills.
Past and future lost earnings.
Diminished quality of life.
Other substantial damages in the event of a wrongful death.
Insurance companies make money by banking premium checks and investing that money to make even more money. They want to pay as little as possible or even nothing on claims. They're well aware of the fact that jurors start out on the assumption that a motorcyclist was at least partially responsible for an accident. In order to obtain fair compensation for an accident, that bias must be overcome. That's another reason why you need a qualified, experienced and respected motorcycle accident attorney from the Law Offices of David Kohm. Call us for a free consultation and case review on your motorcycle accident at any of our convenient locations.
Arlington (817) 522-4451
Dallas (972) 362-6848
Fort Worth (817) 764-1375
Plano (972) 354-4602
Cedar Hill (972) 338-9427
McKinney (469) 522-3688
Lewisville (972) 354-4605
Frisco (972) 725-7681
Grapevine (817) 835-8677
Irving (972) 354-4610
Keller (817) 204-0904
Garland (214) 572-2251
Denton (940) 222-4060
Addison (972) 564-8108
You can also contact us online by using our quick contact form.