An Attorney Can Help With Getting Social Security Disability Benefits For Debilitating Neck Pain
One of the most common claims for Social Security disability is neck pain. It is often referred to as a cervical disorder. In many cases, it is not just a limited range of motion keeping an individual from performing their job, it is also the intermittent pain they experience daily. This makes it difficult for them to maintain focus and more when they are working.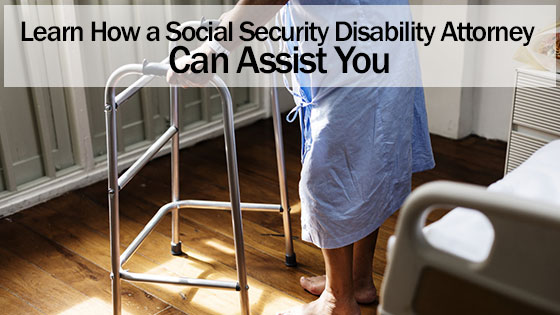 Documentation
A Social Security disability attorney will know how to work with a treating physician and get the most important medical documentation proving an individual's condition. Should a person not have treatments from the right physician, an attorney may make recommendations. Too often people think if they have a letter from their physician stating they are disabled, it will be enough to get their disability claim approved. This is not true. A Social Security disability claim representative is taught to find reasons to deny a claim.
Objective Evidence
Disability insurance companies claim neck problems are common and use this as a reason to deny a disability claim. They will often state there is no objective evidence that can prove a person's limitations and restrictions resulting from neck pain. They will want to see a claimant's allegations supported with things like an EMG nerve conduction study, X-ray, CT-Scan, MRI and more. Should an individual's objective testing not show any type of abnormalities, it will make an approval for a disability claim much more difficult. It is still possible for an individual to have normal objective testing but still experience pain that is debilitating. A Social Security disability attorney will have extensive knowledge of all forms of cervical spine disorders and more.
Tactics
A disability insurance company will pay an in-house physician to analyze the medical records of a person making a Social Security disability claim. They will provide an opinion on a claimant's ability to work. They will do this without conducting a physical examination on a claimant or meeting them. It's possible they may be provided video surveillance of a claimant. An experienced attorney knows the best way to handle this situation. It is important for a treating physician to accurately document a claimant's limitations, complaints, and restrictions. Should a disability claim be reviewed by an appeals court, the insurance company will lose if they ignore documentation and statements from a treating physician.
Treatment
Disability attorneys often recommend their clients with a neck disability claim receive treatment from a neurologist, orthopedist as well as a physiatrist, who is also known as a pain management doctor. In some cases, it could be recommended a client have a functional capacity exam (FCE). A client may also be advised to create a daily pain journal. This will be a record of dates, treatments, medical visits, symptoms, time taken off work and more. This could be very valuable information should a claim be denied.
Credibility
One reason a claim will get approved is if the claimant is credible, and they present themselves in a way an administrative law judge or claims examiner believes they are telling the truth about the level of pain they experience daily. These people will look at how often a claimant has been to the doctor, how much pain is reported by others, the treatments tried, as well as a physician's opinion of limitations and pain level. They will also want to know how much the pain affects a claimant's daily activities and more.
Social Security does not give individuals SSI or SSDI disability benefits easily. A person must have experienced an impairment that is medically determinable and has lasted for at least twelve months. This is why it is important for a person with debilitating back pain to discuss their situation with an experienced attorney. They will know what a disability insurance company wants to see for a neck disability claim. A Social Security disability attorney will know what can be legally done to get Social Security disability benefits for a person who deserves them.
Call our law offices today at any of our convenient locations and get a free consultation.
Arlington (817) 522-4451
Addison (972) 564-8108
Denton (940) 222-4060
Dallas (972) 362-6848
Garland (214) 572-2251
Fort Worth (817) 764-1375
Cedar Hill (972) 338-9427
McKinney (469) 522-3688
Lewisville (972) 354-4605
Frisco (972) 725-7681
Grapevine (817) 835-8677
Irving (972) 354-4610
Keller (817) 204-0904
Plano (972) 354-4602
You can also contact us online by using our quick contact form.