The Social Security Disability System provides benefits to people who are unable to work due to a medical condition that is expected to affect them for at least a year or result in their death. What comes to issue is that those benefits that are intended to protect people for at least a year might take two or more years to obtain. So the obvious question is: Why does it take so long for a qualified person to get his or her social security disability claim approved? The article below will explain the reason, but if you are looking to have this process sped up, you should consider retaining the services of an experienced Social Security Disability attorney that understands how to make sure these claims move smoothly and quickly.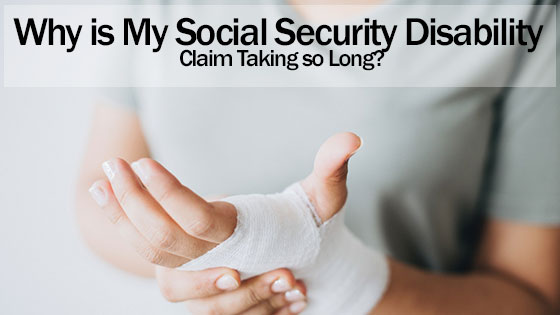 Qualifying Financially
The Social Security Administration (SSA) is in need of considerable information to decide any disability application that might be filed. The first hurdle involved is meeting the SSA financial requirements. SSA will want to confirm that an applicant either worked long enough or is under a specific income level that might qualify for Social Security Income. A Social Security Disability attorney will be able to look at your personal finances and provide advice on how to handle to part of the process.
Disability Determination Services
Assuming that an applicant worked long enough or otherwise qualifies for benefits, their file is transferred to Disability Determination Services (DDS) which contacts them. DDS is going to request medical records from the physicians and other health care providers that are listed in the application for benefits. Medical Providers don't generally respond to records requests promptly. Obtaining the requested records might take several months. Other forms will be forwarded to an applicant by DDS for completion and return. In the interim, supplemental medical records will probably be needed which is likely to result in further delays. This is part of the process where an attorney can assist in guiding you on all of the information that is required so that you can avoid the pitfalls that can delay this process.
The Medical Mess
After all appropriate medical information has been received by DDS, the applicant will probably need to be examined by a physician. Six to eight weeks will pass before DDS receives the examining doctor's report. If the applicant's condition involves a psychological condition too, a psychologist will review the records and provide his or her findings. After that, a vocational specialist will review all limitations that are found to determine whether any jobs are in existence given the applicant's limitations. Finally, an examiner reviews all available options and renders a decision. Applicants are looking at about eight total months for a decision. If you make mistakes during this application process that can add additional delays or disapproval. This is why it is imperative to retain the services of an experienced Social Security Disability attorney.
The Denial
Most applications for SSD or SSI are denied. The initial application approval rate is somewhere around 15%. A denial can force an applicant into filing for reconsideration. That request must be made within 60 days of the date of receipt of the initial denial. Additional examinations and reports will probably be required. After four to six months, a decision will be made on reconsideration. If an applicant is denied again, a second appeal might be in order.
The Second Appeal
If the application is denied upon reconsideration, another appeal can be taken to the Office of Disability Adjudication and Review (ODAR). At any given time, about a million appeals are awaiting adjudication. Depending on where the second appeal is filed, the processing time can be as short as about seven months to longer than a year. Simply put, people have their places in line.
Personnel in the Social Security Disability System are acutely aware of how long the Social Security disability claim process can take. So are we at the Law Offices of David Kohm. Our objective is to provide SSD or SSI with all relevant and material evidence in support of your benefits application in a streamlined and articulable fashion that minimizes any supplemental requests for more information. Our success rate is remarkable.
Call our law offices today about applying for SSD or SSI benefits and get a free consultation.
Arlington (817) 522-4451
Dallas (972) 362-6848
Fort Worth (817) 764-1375
Plano (972) 354-4602
Cedar Hill (972) 338-9427
McKinney (469) 522-3688
Lewisville (972) 354-4605
Frisco (972) 725-7681
Grapevine (817) 835-8677
Irving (972) 354-4610
Keller (817) 204-0904
Garland (214) 572-2251
Denton (940) 222-4060
Addison (972) 564-8108
You can also contact us online by using our quick contact form.