After a serious truck accident, it's all too easy to assume that one party is solely responsible. However, injury claims aren't always clear-cut. In some situations, plaintiffs contribute to their own injuries, and a truck accident attorney must contend with the issue of comparative negligence. Like most other states, Texas uses the modified comparative fault doctrine, which allows a victim to recover some damages from an at-fault party, even when they share the blame.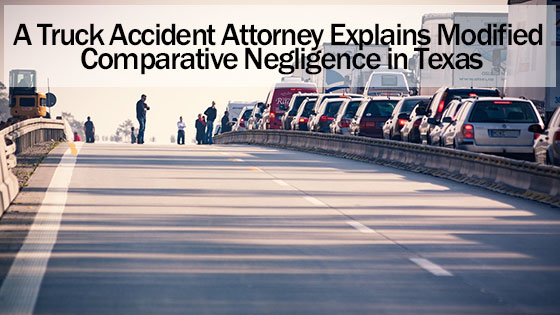 This is in direct opposition to doctrines like pure contributory negligence, which prevents a victim from recovering damages if they're even 1% responsible. Comparative negligence is a crucial concept in auto accident cases, and by nature, it can make or break a claim. Read on to learn how the comparative fault doctrine affects Texas auto accident cases and why it is necessary to hire an experienced Texas truck accident attorney.
Reduced Damages and the 51% Recovery Bar Rule: How It May Affect a Texas Truck Accident Claim
Texas' modified comparative fault doctrine follows the 51% rule. Simply put, this means a plaintiff (injured victim) cannot receive compensation if they're deemed to hold 51% or more of the responsibility for an auto accident. Basically, the other person has to be mostly at-fault for an accident for a victim to seek economic damages.
The state's modified comparative fault rules also say that when a victim is considered to be less than 50% responsible for their injuries, their recovery is reduced according to their share of fault. If, for instance, a driver is 20% at-fault for an auto accident, and the other person is 80% responsible, the victim's recovery is reduced by 20%. That means if an award is supposed to be $100,000, the victim will receive just $80,000.
How Modified Comparative Fault Protects Plaintiffs and Defendants
While the modified comparative fault doctrine allows a victim to recover compensation even if they contributed to their own injuries, it also protects at-fault drivers and their insurers by giving them the chance to reduce or avoid a payout by assigning some blame to the victim. That's why it's important for a victim to work with a proven truck accident attorney who can provide evidence of the other person's liability. With help from an attorney, a partially at-fault victim is more likely to recover the compensation they deserve.
Get a Free, No-Obligation Case Review
At the Law Offices of David Kohm, our team of experienced personal injury attorneys handle comparative fault matters in a variety of cases, including truck accidents, auto accidents, motorcycle accidents and more. Whether the claim is big or small, we'll fight to help every client get the highest award possible.
If you've been in a truck accident and you believe that you may have contributed to it, you shouldn't automatically assume that you won't get compensation. Numerous factors could cause an accident, including other drivers' actions, mechanical failures, road defects, and many more. To determine each party's share of fault, it requires an in-depth investigation by an experienced injury attorney. With guidance from a truck accident lawyer, a victim can find out who's responsible, who may be held liable, and how much compensation they can receive.
If you'd like additional information on Texas' comparative fault rules or you'd like to discuss your case with a team member, we invite you to contact us for a no-obligation case review. Call our law offices today at any of our convenient locations and get a free consultation.
Arlington (817) 522-4451
Dallas (972) 362-6848
Fort Worth (817) 764-1375
Plano (972) 354-4602
Cedar Hill (972) 338-9427
McKinney (469) 522-3688
Lewisville (972) 354-4605
Frisco (972) 725-7681
Grapevine (817) 835-8677
Irving (972) 354-4610
Keller (817) 204-0904
Garland (214) 572-2251
Denton (940) 222-4060
Addison (972) 564-8108
You can also contact us online by using our quick contact form.