Anyone who has ever driven a vehicle is familiar with blind spots. However, not everyone knows where these blind spots are on their car, SUV, or even large commercial vehicles, like semi-trucks. 
Drivers who don't know where blind spots are located and do not frequently check their side and rear-view mirrors may end up causing a serious accident, putting themselves and others at risk of property damage, injuries, and even death.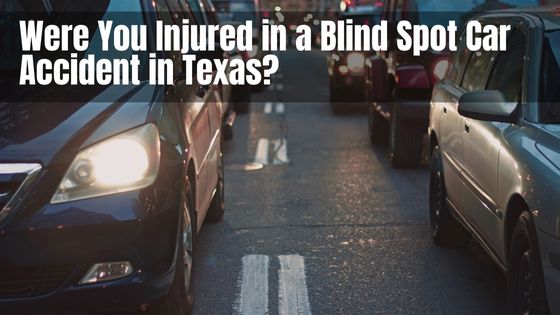 If you have been injured in a blind spot crash, it is best for you to reach out to a car accident attorney as soon as you can. A competent, experienced car accident lawyer will discuss your legal options with you and work hard to achieve the best possible outcome for your case, should you choose to file one. 
Blind Spots: What Are They?
Blind spots are areas around a vehicle that you cannot see while you're at the wheel, while you're looking ahead, or even while looking at the side or rear-view mirrors. In some cases, vehicle components like the aforementioned mirrors can even create blind spots. 
Blind spots can also mean areas that are too low to see from the controls. These can be found in front, behind, or on both sides of vehicles, particularly if the driver's seat is high. For instance, commercial trucks have blind spots behind and below the driver's side window as well as immediately in front of the truck's hood. 
Why Are Blind Spots Dangerous to Drivers and Others on the Road?
It is crucial to know about blind spots as a driver. Ignoring them or not checking them regularly may result in a collision with property, such as a light pole or another vehicle. 
For instance, you might not notice another vehicle in your blind spot. If you change lanes, you could end up hitting the other car. Additionally, drivers must take care to be aware of other road users that may end up in one of their blind spots. These include: 
Pedestrians

Cyclists

Motorcyclists 
Meanwhile, if you're driving in another vehicle's blind spot, you risk being in a collision because the other driver couldn't see you, much less avoid you.
Who Is Liable for Damages In a Blind Spot Crash Lawsuit? 
Generally, the person who had the blind spot is held legally liable for damages. Drivers have a duty of care to other drivers, pedestrians, and other people who share the road. They are expected to drive responsibly, stay aware of their surroundings and regularly check their blind spots to avoid causing harm to others. 
However, this is not always the case. What's more, determining liability in a blind spot crash case can be a difficult and long process. For this reason, you should consider hiring an experienced car accident lawyer from our team. 
Can a Crash Victim Be Held Legally Responsible for a Blind Spot Crash? 
The answer is yes. However, it does depend on the situation. A competent and experienced attorney will perform a thorough investigation to help ensure you are not unfairly held liable for the crash. 
Keep in mind that even if you are partly at fault for the blind spot crash, you might still be able to get compensation. According to Texas proportionate responsibility law, which applies when multiple parties are at fault, you may still be able to claim damages. However, this is true only if you're found to be 50 percent or less at fault. Meanwhile, drivers found to be 51 percent or more at fault cannot legally seek financial compensation. 
How to Prevent Blind Spot Car Accidents
Responsible, defensive driving is key to avoiding blind-spot accidents. First, you must always be aware of blind spot areas on your car as well as those of other vehicles you encounter on the road. You should always avoid driving in their blind spots. 
The following are some steps to take to help prevent blind-spot crashes. 
Adjust Your Side and Rear-view Mirrors:

Before you get in the car, even if you're just driving a few blocks, make sure your mirrors are aligned or tilted in the best position for visibility. 

Use Your Rear-view Camera Before You Back Your Car:

Look at your rear-view camera to make sure there are no vehicles, pedestrians, or other road users behind your car.

Install Blind Spot Mirrors:

These can be purchased from most automotive accessories stores and online. Blind spot mirrors can significantly improve your visibility into your blind spot areas. 

Regularly Clean Mirrors and Windows:

Streaks and smudges can reduce driver visibility.

Upgrade to Convex Side Mirrors:

While these might be a little costly, they provide a wider viewing range than a conventional flat mirror.

Don't Rely Solely on Lane Assist Technology:

While useful, this technology is neither flawless nor foolproof. It is still crucial to take other precautions, such as the other steps on this list, to avoid blind spot crashes. 

Check Over Your Shoulder:

A peek over your shoulder right before changing your direction or position on the road, such as before reversing, changing lanes, completing a turn, or easing into a parking slot.

Do Not Drive in Other Vehicles' Blind Spots:

Instead, slow down, change lanes, or accelerate, whichever is the safest option for the particular situation. 
Know Where the Larger Blind-Spot Zones of Commercial Trucks Are
The state of Texas has countless commercial trucks on its roads at any given time. For this reason, it's crucial to pay attention to your car's blind spots as well as those of commercial trucks on the road with you. This may help prevent blind spot accidents. As a general rule, if you can't see the truck driver's face in their side mirror, then they can't see you either. 
In commercial trucks, blind spots are called "no-zones," and they are much larger than those of cars and other smaller vehicles. There are four major ones located in the front, rear, and sides of the vehicle. 
According to Consumer Reports, a mid-size sedan has a rear blind spot of approximately 13 feet for drivers of average height. Meanwhile, a trailer truck has a no-zone area that extends nearly 200 feet from the back of the trailer. 
Call Our Law Firm to Discuss Your Legal Options After a Blind-Spot Crash 
If you have been injured in a blind-spot crash, you may be eligible for financial compensation for your damages. Find out at no cost via a confidential and free consultation with a trusted car accident attorney.
The Law Offices of David Kohm have provided legal representation to clients in Arlington and Dallas-Fort Worth for more than 25 years. During your consultation with our car accident lawyer, we'll discuss the legal options that may be available to you, and that may help you cover the costs of recovery. 
If you choose our car accident attorney to represent you, you do not need to pay any fees upfront or even while we are handling your case. In fact, we only get paid if you do. 
To learn more about our services, reach out to the Law Offices of David Kohm today at any of our locations. 
Arlington (817) 522-4451
Dallas (972) 362-6848
Fort Worth (817) 764-1375
Plano (972) 354-4602
Cedar Hill (972) 338-9427
McKinney (469) 522-3688
Lewisville (972) 354-4605
Frisco (972) 725-7681
Grapevine (817) 835-8677
Irving (972) 354-4610
Keller (817) 204-0904
Garland (214) 572-2251
Denton (940) 222-4060
Addison (972) 564-8108
You may also get in touch with us online by using our quick contact form.