The safety features in most vehicles are designed to protect the vehicle's passengers from front and rear-end collisions. Due to the impact of a T-bone accident or side impact collision, the damage it could cause can be devastating. Further, this type of accident is worse for older vehicles that aren't equipped with side airbags.
T-bone car accidents often occur at cross streets and intersections where traffic will converge. The speed of the vehicles involved in the incident will play a significant role. Still, even if the driver at fault was going slowly, T-bone collisions can cause significant injuries.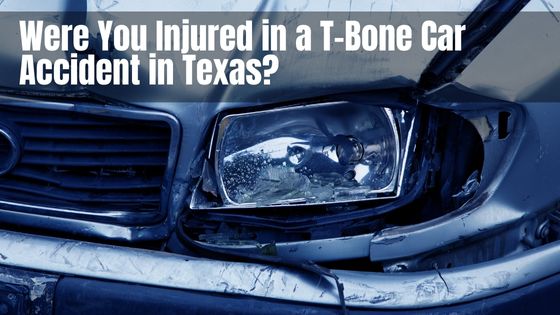 In Texas, victims of this type of vehicle accident should work closely with a seasoned car accident attorney to secure the compensation they deserve. As the victim, you don't have to bear the financial burdens associated with the automobile collision. Your compensation should be enough to cover medical bills, car repair or replacement, property damage, and other losses.
How do T-Bone Car Accidents Happen?
The driver of either vehicle involved in a side-impact collision can be at fault. In this situation, one of the drivers can get stuck broadside, or the other vehicle may have directly slammed into the other car's side. Investigators on the scene will usually determine which driver failed to yield to the one who had the right of way.
Some people mistakenly believe that the driver whose vehicle collided with the other car's side is automatically at fault. However, this isn't always the case. Determining who had the right of way and who should yield in such an incident requires a thorough investigation. An expert car accident lawyer will consider video, photographs, police reports, and eyewitness evidence to determine who was at fault in a T-bone accident.
Common Causes of Side Impact Collisions
In many side-impact accident cases, one driver misjudges the other vehicle's speed. Other potential causes include violating the other driver's right of way and disregarding traffic signals.
Here are the other potential causes of T-bone accidents:
Running a Red Light:

One of the top causes of a side-impact collision is when one driver runs a red light. This disregard for traffic rules often causes serious injury because the driver at fault will usually be speeding, increasing the level of impact during the collision.

Driving Under the Influence:

Intoxicated drivers have impaired judgment, which means they can fail to recognize potential hazards on the road. Reduced driving reflexes make them more prone to side impacts and other traffic accidents.

Reckless Driving:

Speeding, swerving, and disregarding road rules puts everyone at risk. Careless drivers can easily misjudge road conditions and the other vehicles sharing the road with them.

Poorly Timed Left Turns:

Drivers waiting to make a left turn at an intersection should ensure no oncoming vehicles when maneuvering into the other lane. Some drivers fail to notice other cars headed their way, resulting in a T-bone accident.

Distracted Driving:

Distractions are one of the common reasons why drivers misjudge other oncoming vehicles. Drivers may be on the phone while waiting to make a left turn. They may be adjusting their car's navigation. They could be playing loud music or conversing with another passenger when the side impact collision occurred.
Working with an experienced car accident attorney will help you prove your case. Your lawyer will gather evidence to determine the negligence of the other driver.
Common Injuries Sustained During Side Impact Accidents
As mentioned earlier, older cars may need to be equipped to handle side-impact collisions. They may not have reinforced frames or side airbags to protect passengers. Most vehicles don't have enough mass to absorb the intensity of such an impact. Because of this, T-bone accidents often cause serious injury:
Spinal Cord Injuries:

Even minor injuries to the spine can cause significant damage inducing life-long disabilities and, worse cases, paralysis.

Traumatic Brain Injuries (TBI):

TBIs are common injuries sustained during a side impact collision. In worse cases, it can result in death or lifelong disability.

Neck Injuries and Whiplash:

The sudden impact on the side of a vehicle can cause a victim's head to move violently, causing massive damage to the neck. This can result in a lot of pain and limit the victim's movement.

Fractures and Other Bone Injuries:

Bone injuries are also common in side impact collisions, which may require surgery and rehabilitation.

Injuries to the Internal Soft Tissues:

The body's soft tissues and joints can also be impacted during a T-bone accident.

Bleeding and Scarring:

During a side collision, broken pieces of metal, plastic, and glass can cause lacerations and bleeding. These injuries can cause lifelong scarring in patients.
A seasoned car accident attorney will help you gather medical records to build your case and win you the compensation you deserve. Your lawyer will explain your options so you can be compensated for medical and other expenses.
Determining Who Is at Fault
An experienced car accident lawyer will look into the facts of the accident to determine who is at fault in a vehicle collision case. Apart from witness statements and other evidence, accident reconstruction specialists may be called to determine how the accident occurred.
Texas law uses a modified comparative fault rule, which means the fault for the accident can be shared by both drivers. In some cases, one driver may be 100% at fault, and in others, both drivers may share a certain percentage of the blame, impacting the compensation claimed by either party.
Another important detail is that if it has been determined that you are 51% or higher at fault in a side collision case, you cannot charge any damages from the other driver.
Work with a Seasoned Car Accident Attorney
If you were involved in a T-bone car accident, it is in your best interest to work with expert car accident lawyers from the Law Offices of David Kohm. They can help you understand the nuances of Texas law and provide you with options to get the compensation you deserve.
You can contact us at any of our convenient locations and get a free consultation.
Arlington (817) 522-4451
Dallas (972) 362-6848
Fort Worth (817) 764-1375
Plano (972) 354-4602
Cedar Hill (972) 338-9427
McKinney (469) 522-3688
Lewisville (972) 354-4605
Frisco (972) 725-7681
Grapevine (817) 835-8677
Irving (972) 354-4610
Keller (817) 204-0904
Garland (214) 572-2251
Denton (940) 222-4060
Addison (972) 564-8108
You can also contact us online by using our quick contact form.