If you have suffered disabling injuries that are keeping you from working, you are not alone. Every single day, there are people who are struggling with this very issue. Many are forced to reduce their work hours or stop working altogether. As a result, getting Social Security Disability benefits or SSI is necessary to be able to financially support yourself. 
Of course, it's important to know whether your particular medical condition will allow you to qualify for disability and how you can secure Social Security Disability benefits. In Texas and elsewhere, the Social Security Administration has a manual known as the blue book that includes a list of physical and mental impairments that qualify a person for benefits. An experienced Social Security Disability attorney can assist you in determining if your ailment or injury is likely to qualify you for Social Security Disability benefits. Your attorney will also be your best bet for navigating the very difficult legal process to obtain these benefits.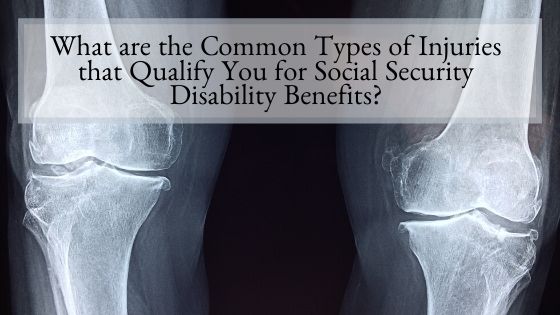 Medical Conditions That Qualify for SSI 
The blue book manual has been updated for 2020. It includes the following medical conditions as those that qualify you for Social Security Disability benefits: 
Cancer

Back and Neck Injuries

Cardiovascular conditions such as coronary artery disease or heart failure

Digestive tract problems like irritable bowel syndrome or liver disease

Hematological disorders like bone marrow failure or hemolytic anemia

Immune system disorders such as HIV/AIDS, rheumatoid arthritis and lupus

Kidney disease and genitourinary disorders

Mental disorders and illnesses like anxiety, autism, depression and intellectual disorders

Musculoskeletal problems

Neurological disorders like cerebral palsy, multiple sclerosis or Parkinson's disease

Respiratory diseases like asthma or COPD

Senses and speech issues such as vision or hearing loss

Skin disorders like dermatitis 
How to Get Disability for Qualifying Medical Conditions 
If you have a medical condition that qualifies for disability, you must get an official diagnosis of the condition from a doctor. This diagnosis must be specific to a condition that's included in the Social Security's Listing of Impairments. It must be something serious like certain cancers, debilitating ailments or ALS. 
For other types of medical conditions, you must determine whether it meets the criteria for the listed condition. It may be necessary to request clinical or laboratory testing from your doctor or wait for the Social Security Administration to schedule a consultative exam for which it pays. However, keep in mind that the latter makes your claim take longer. Your Social Security Disability attorney will be able to direct you to the proper medical professionals who are familiar with the Social Security Disability process. They will know what tests and procedures to administer in order to get the proper diagnosis. They will also know how to document the ailment or injury so that your Social Security Disability attorney can utilize that evidence to bolster your claim.
Does a Medical Condition Have to Match the Listing in the Manual? 
When you file for Social Security disability benefits, your medical condition doesn't have to fall under the exact requirements. If Social Security considers certain parts of your condition medically equivalent to something listed in the blue book, you can still qualify for benefits. 
Medical Conditions Likely to Qualify for Social Security Disability 
Although all of the listed medical conditions can qualify for Social Security disability benefits, certain conditions are more likely to garner a faster approval of your application than others. Generally speaking, it depends on the severity of the condition and how much it impacts your daily life. You will want to speak with an experienced Social Security disability benefit attorney who can help you prepare your documentation once you apply for benefits. 
Why is an Attorney so Important in this Process? 
Obtaining Social Security Disability benefits is very difficult and the courts are more likely to deny you benefits. Having a lawyer on your side increases the likelihood that you will present a strong case with all of the necessary evidence needed to sway the court's ruling. These attorneys handle these cases everyday of the week, so they are experts in understanding what the court needs and what needs to be said in order to maximize your chances of qualifying for Social Security Disability benefits.
Here are some of the materials that your attorney will need:
It's important to have all the names and addresses of the doctors and medical offices you have visited over the past five years. 

A letter from your doctor that lists any limitations you have, such as being unable to work full-time or lift more than a certain amount of weight. 
From here your Social Security Disability attorney will be able to determine the likelihood that you will qualify or they will be able to provide you the legal expertise on what you will need to do in order to improve your chances for approval.
Call our law offices today at any of our convenient locations and get a free consultation with a Social Security disability benefit attorney.
Arlington (817) 522-4451
Dallas (972) 362-6848
Fort Worth (817) 764-1375
Plano (972) 354-4602
Cedar Hill (972) 338-9427
McKinney (469) 522-3688
Lewisville (972) 354-4605
Frisco (972) 725-7681
Grapevine (817) 835-8677
Irving (972) 354-4610
Keller (817) 204-0904
Garland (214) 572-2251
Denton (940) 222-4060
Addison (972) 564-8108 
You can also contact us online by using our quick contact form.