In Texas, it's the law that all drivers who have been involved in an accident must stop and provide assistance. However, there are cases where some drivers do not comply with this rule and may drive away without checking if you're okay. Being in a hit-and-run accident can be scary, but there are options available to you. With the help of an experienced car accident attorney in Arlington, you can avoid bearing the burden of the accident on your own.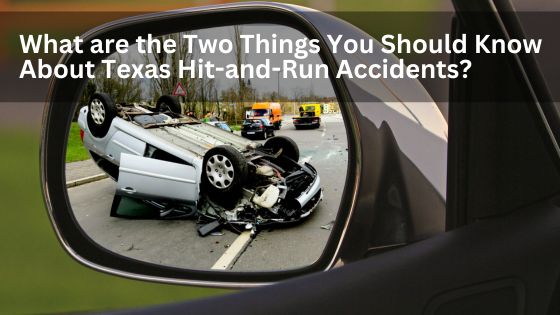 What to Do Immediately After Your Car Accident in Texas
At the scene of an accident, there are several crucial steps that need to be taken.
Pull Over – Chasing after the driver who is trying to escape is not advisable as it could exacerbate the situation and result in more harm.
Call the police – To help the police find the other driver, it's important to report the accident to them right away and provide as much information as possible about the accident and the other driver. This information may include:

– The make, model, and color of the vehicle
– A physical description of the driver


– Any part of the license plate that you can recall.

Get medical help –

 If you or anyone else in your vehicle is injured, call an ambulance. Document any medical treatment you receive to strengthen a personal injury claim that you might make in the future.



Document evidence –

 Take photos or videos of damage to your vehicle, the environment around the accident, and any injuries that your or someone in your car received.

Talk to witnesses –

Take the names and contact information of anyone who witnessed the accident.
After following the steps at the accident scene, you may have to wait for the police to locate the other driver. If they are unable to do so, gathering evidence about the accident will increase your chances of receiving more insurance coverage.
Getting Compensation for the Hit-and-Run Accident
Hit-and-run accidents leave the victims responsible for handling the claim without the help of the other driver. Besides, they have to manage vehicle damage and potential injuries. The question that arises is who will be liable for the expenses?
If the driver responsible for the accident cannot be identified, you may need to use your own UM/UIM coverage. However, the offer from your insurance company may not be enough to cover all your expenses. To address this issue, you can seek help from an experienced car accident lawyer.
Law enforcement will use the police report to locate the hit-and-run perpetrator. Once found, you can enlist the help of an attorney to file a claim with their insurance company. Additionally, you can choose to file a personal injury lawsuit against the driver to seek damages for the accident.
If the driver was under the influence of alcohol or drugs, or was not paying attention while operating their vehicle, it is possible to sue them for punitive damages. This is in addition to the compensation you may receive for any injuries or damage to your vehicle.
If the other driver is never found, you can still receive compensation from your insurance company by hiring an attorney who specializes in hit-and-run accidents. They have the necessary experience to help you receive the maximum compensation possible.
A Texas personal injury law firm, with years of experience in negotiating fair settlements and litigating car accident cases, will be familiar with insurance companies' tactics to reduce claims. With their expertise, they can fight on your behalf to ensure you receive the compensation you rightfully deserve.
Hire a Car Accident Attorney in Arlington, Texas Today
Hit-and-run claim cases can be complex, which is why seeking advice from the experienced team at The Law Offices of David Kohm is your best bet to get the full compensation you deserve. To learn more about your options, call the Law Offices of David Kohm today at any of our convenient locations and get a free consultation.
Arlington (817) 522-4451
Dallas (972) 362-6848
Fort Worth (817) 764-1375
Plano (972) 354-4602
Cedar Hill (972) 338-9427
McKinney (469) 522-3688
Lewisville (972) 354-4605
Frisco (972) 725-7681
Grapevine (817) 835-8677
Irving (972) 354-4610
Keller (817) 204-0904
Garland (214) 572-2251
Denton (940) 222-4060
Addison (972) 564-8108
You can also contact us online by using our quick contact form.