Although the dangers of drinking while under the influence of alcohol or drugs are well known, people still get behind the wheel while intoxicated. Unfortunately, this can also lead to a serious accident that can result in injuries and significant property damage. If you or a loved one has been injured in a car accident because of a drunk driver you should immediately contact an experienced DWI car accident attorney.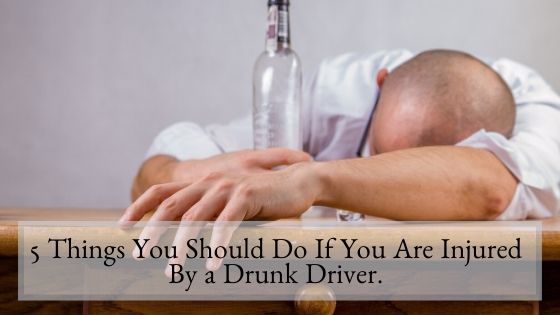 Distracted driving has also increased in Texas and across the United States, in general, but drunk driving remains a huge problem. Everyone on the road, including other drivers, passengers and pedestrians, is put at risk when someone decides to get behind the wheel even after consuming one or two alcoholic beverages. If you have been struck by a drunk driver and rendered injured as a result, it's important to know what you should do afterward. 
Call the Police –

Immediately call the police after an accident with a drunk driver. It's important to ensure the police arrive at the scene to make an accident report. You can later obtain a copy of the report as documentation to back up your claim, which is an important part of evidence you can use. It shows who was at fault for the accident and holds the driver accountable for their actions.
Gather Information –

If you are physically able to manage doing so, get the at-fault driver's name, contact information, insurance information and driver's license and license plate numbers. If there are any witnesses who saw the accident, you should get their names and contact information as well. You may also want to snap a few pictures of the scene of the accident as visual evidence to back up your personal injury claim. You can present the photo to a DWI car accident attorney later on.

Plan to Get Involved in the Criminal Process –

Some drunk driving defendants are able to plea bargain their charge down, which can negatively affect your case. However, in cases where the accident results in serious injury or death, the judge will not consider that. Regardless, it's important to prepare yourself to get involved in the criminal process and speak with the prosecutor to tell them you are against a plea bargain. At the very least, it can give you a chance to be heard and the prosecutor and judge can know where you stand.

Get Medical Attention –

You must immediately seek medical attention after being in an accident with a drunk driver. Even if you feel fine, many injuries and their symptoms can lie dormant for hours or even days due to the adrenaline rush you experience after such a stressful situation. You can also be diagnosed with any unforeseen injuries, especially those that are internal. Seeking medical treatment also means you will have a good amount of documentation to back up the evidence that you suffered a personal injury as a result of the accident. This can only help in your case and ensure a better settlement.

Get in Touch with an Attorney –

Finally, it's absolutely crucial to get in touch with an experienced

DWI car accident attorney

. You need to go into your case with representation from a professional who knows how to handle these kinds of matters. You may also need to get a settlement from the drunk driver's insurance company, which requires legal expertise.
Call our law offices today at any of our convenient locations and get a free consultation. 
Arlington (817) 522-4451
Dallas (972) 362-6848
Fort Worth (817) 764-1375
Plano (972) 354-4602
Cedar Hill (972) 338-9427
McKinney (469) 522-3688
Lewisville (972) 354-4605
Frisco (972) 725-7681
Grapevine (817) 835-8677
Irving (972) 354-4610
Keller (817) 204-0904
Garland (214) 572-2251
Denton (940) 222-4060
Addison (972) 564-8108 
You can also contact us online by using our quick contact form.