Drinking and driving don't mix. Not only is it important to be sober while behind the wheel, but also to watch out for other drivers who may be drunk. Being on the road has certain inherent risks, but when someone chooses to drink and drive, it heightens the danger for everyone. It's important to know what to do when you see someone who is driving erratically. Unfortunately, it's not always easy to tell why a driver is not following the signs of the road. They may also be texting or eating, which causes their attention to be pulled away from their driving. If you or a loved one have been involved in an accident with a drunk driver it is important to contact a drunk driving attorney immediately.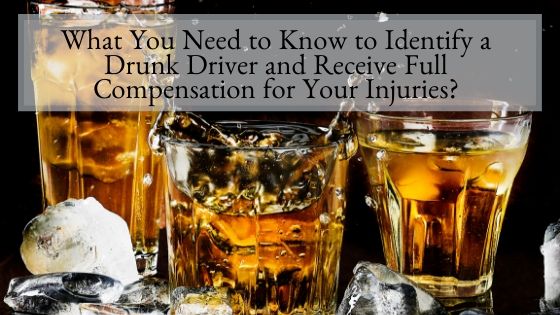 What are Common Signs of a Drunk Driver?
These warning signs that are common actions of intoxicated drivers, which can be used to help you detect these drivers on the road:
Problems maintaining proper lane position: weaving, weaving across lane lines, straddling a lane line, swerving, turning with a wide radius, drifting, almost striking a vehicle or other object

Speed and braking problems: problems stopping, accelerating or decelerating for no apparent reason, varying speed, slow speed

Vigilance problems: driving in opposing lanes or going the wrong way on a one-way street, slow response to traffic signals, stopping in lane for no apparent reason, driving without headlights at night, failure to signal or take actions inconsistent with signal

Judgment problems: following too closely, improper or unsafe lane changes, illegal or improper turns, driving on paths other than designated roadways, inappropriate or unusual behavior, appearing to be impaired
If you notice a driver who is showing any of these signs, you have the option to report them to the police as a suspected DWI. These reports can be made directly to 911, and you will need to provide information regarding the: location, direction the car was going, make/model/color of the car, and the vehicle license plate number. Your safety should be your top priority. To avoid being hit, make sure you are a safe distance away from the suspected drunk driver.
What to Do If You are Involved in an Accident with a Drunk Driver?
Remain Calm, Assess Dangers, and Keep Yourself and Others Safe.

– Once your vehicle has come to a stop, stay as calm as possible and immediately assess the situation. If anyone has sustained any injury, call 911 immediately and request assistance from emergency personnel. In the immediate aftermath of the crash, your first priority must be your safety and the safety of others in your vehicle or at the scene of the crash. Use good judgment to prevent the situation from getting worse.

Stop and Remain at the Scene. –

Do not leave the scene of a traffic accident unless staying there poses a significant risk to your safety or welfare.

Do Not Make Any Statements of Apology or Admissions of Fault at the Scene. –

At the scene, you should render aid if you can and it is needed by the other driver or occupants of the other vehicle. Otherwise, interaction with the drunk driver should be limited. Do not confront or argue with the other driver. Nothing should be done or said to cause any anger or conflict between persons at the accident scene. Obtain the information needed about the driver, his vehicle and his automobile insurance but do not engage in other unnecessary dialogue with the driver or occupants of the other vehicle. Most importantly, do not apologize or say you are sorry because such statements could be construed as admissions of your guilt in causing the accident. Understandably, individuals often want to be courteous and supportive in the aftermath of an automobile crash. But, saying you are sorry or admitting that the accident was your fault is unnecessary and very ill advised. At the scene, do not admit that you did anything wrong. Any comments about who was at fault are premature and may not even be correct. In sum, the accident site is neither the place nor the time for you to express regrets or accept responsibility for the crash. Ultimately, the time and place for you to speak about who caused the crash is in a court of law after all the evidence is made available and you have had a chance to think and consult with an attorney.

Contact the Police Immediately or As Soon As Possible. –

It is imperative that the police be notified about the accident either immediately at the scene, or as soon as possible after the crash takes place. Do not let the other driver or anyone else at the scene try and persuade you not to contact the police.

Drunk Driving Victims Should Seek Medical Treatment As Soon As Possible. –

Any drunk driving victim should use good judgment in deciding when, where and from whom to seek medical treatment. Unless someone is very sure they have sustained no injury, it is best to seek medical treatment immediately or at least be evaluated by emergency physicians at a hospital after leaving the scene of the crash. Some injuries are not readily apparent or may require tests or assessment by trained medical professionals to discover.

Take Photographs and/or Videotapes of the Damaged Vehicles and Crash Scene. –

Photographs and videotapes are absolutely invaluable in a civil case. Photographs are always the best way to graphically demonstrate for the jury the force of the collision and the trauma likely experienced by someone involved in the crash. Photographs can also be introduced to establish the conditions then existing at the time of the crash such as the weather, the layout of the intersection or roadway, the existence or location of signs or traffic control devices, any obstructions which affected visibility, or construction activities that may have contributed to the crash. Moreover, photographs may be important to an accident reconstruction expert called to testify about how or why the collision took place.

Contact a Drunk Driving Attorney

– Having an experienced

drunk driving accident attorney

can be vital to maximizing your compensation for injuries caused by a drunk driver. These are very complex cases, so having someone who deals with these legal issues regularly can help you obtain positive results.
If you need a drunk driving accident attorney, then you should call our law offices today at any of our convenient locations and get a free consultation.  
Arlington (817) 522-4451
Dallas (972) 362-6848
Fort Worth (817) 764-1375
Plano (972) 354-4602
Cedar Hill (972) 338-9427
McKinney (469) 522-3688
Lewisville (972) 354-4605
Frisco (972) 725-7681
Grapevine (817) 835-8677
Irving (972) 354-4610
Keller (817) 204-0904
Garland (214) 572-2251
Denton (940) 222-4060
Addison (972) 564-8108 
You can also contact us online by using our quick contact form.