Texas law states that all victims of an accident in Texas have the right to compensation from the at-fault driver whether or not the driver is intoxicated. This means the at-fault driver's insurance company is obligated to pay for the damages, injuries, lost wages, medical bills and other related cost to the victims. Still, if you are like most people, you may find the process of taking action after being involved in an accident with a drunk driver to be extremely complicated and intimidating. Retaining the services of an experienced Texas DUI attorney can make the handling of such a case less daunting.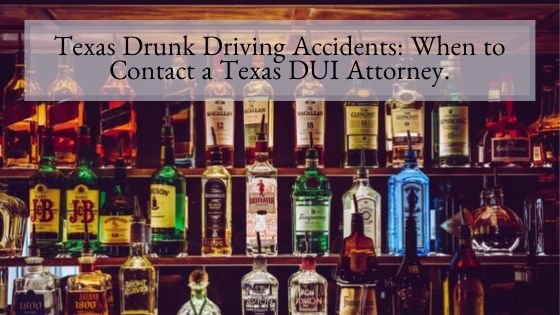 Injured in a Car Accident Under the Influence? What Next?
Maybe you have filed an insurance claim before. Maybe you have hired someone to handle a court case. No matter what, when you are involved in a drunk driving case and the other driver who caused harm to your vehicle or injuries to your body is under the influence of alcohol or drugs, it is important to get familiar with the nuts and bolts of Texas law for DUI. You will need to file a claim immediately upon the incident and against the other driver's insurance. During the claim, you will be asked to provide evidence/witness of the accident through police reports or arrest records. This is where an experienced DUI accident attorney can step in and make your life much easier and also help maximize your settlement. 
Driving under the influence is a serious crime in Texas. Even if the drunk driver isn't arrested on the spot, that shouldn't deter you from making a claim against him or her. Filing a personal injury or wrongful death claim against the driver should be your top priority. Remember that cases like this have requirements that are more lenient than other criminal cases. Your Texas DUI attorney will give you a good overview of the case and walk you through the process of what evidence is required in order to have a positive outcome. 
A drunk driver who has been arrested and charged for the incident may receive a jail term, long-term prison sentence, probation, fines or one or more combination of these punishments. Your claim will be advanced if you can show evidence that the driver was intoxicated, through the arrest report, investigation or witness statements. This means the insurance company will not wait for its own investigators to look into the matter, saving you time and money. The Texas court takes DUI charges very seriously and your evidence can be advantageous toward filing claim or speeding up the settlement process. 
Recovering Compensation with a DUI Attorney's Help
A victim of a drunk driver's actions has the right to recover compensation from the at-fault driver's insurance company for a number of reasons. If you are a victim, you can file a claim for physical injury, property damage, mental agony, medical bills, loss of earning capacity, disfigurement, suffering as well as loss of services and consortium. With the accident taking a toll on your health and well-being, it is painfully clear that you are entitled to more than just the tangible damages. Note that the victims can be anyone, even individuals who were in the at-fault driver's vehicle at the time. It is even possible for spouses to file a claim against their own insurance company. This will help them pay for the damages, medical bills and other related expenses. As you can see this is an extremely complicated car accident case, which intertwines possible criminal issues due to the DUI conviction, but also dealing with difficult insurance companies that are looking to reduce your claim. An experienced DUI accident attorney can utilize their expertise in these legal matters to help you achieve a possible positive out come and maximize your return. 
Call our law offices today at any of our convenient locations and get a free consultation. 
Arlington (817) 522-4451
Dallas (972) 362-6848
Fort Worth (817) 764-1375
Plano (972) 354-4602
Cedar Hill (972) 338-9427
McKinney (469) 522-3688
Lewisville (972) 354-4605
Frisco (972) 725-7681
Grapevine (817) 835-8677
Irving (972) 354-4610
Keller (817) 204-0904
Garland (214) 572-2251
Denton (940) 222-4060
Addison (972) 564-8108 
You can also contact us online by using our quick contact form.