A loved one has been killed in a fatal car accident in Texas, and was the result of an awful mistake made by another driver. During this troubling time there are a number of things that you need to know in order to get justice for your loved one due to the negligence of another. One of the most important things that you should do is contact an experienced wrongful death attorney in order to make sure that you are properly represented.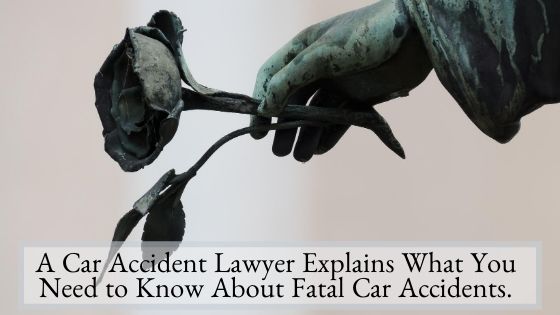 Accidents that are More Likely to Result in Fatalities
While any car accident theoretically has the potential to be fatal, there are some car accident types that have a higher fatality rate than do others. These accidents include:
No seatbelts. In a car accident where occupants of a motor vehicle are not buckled at the time of impact, the rate of fatality is much higher.

High speeds. The faster that vehicles are traveling, the greater the risk of accident and the greater the risk of severe injuries or death. This is because the force of an accident is directly influenced by speed; the faster that a vehicle is traveling, the more force that is involved in a collision.

Head-on collisions. Head-on collisions are, statistically, the most fatal accident type. When vehicles hit each other head-on, occupants in both vehicle types are at a high risk of severe injury or death.

Rollover accidents. Like head-on collisions, rollover accidents have an especially high fatality rate. This is particularly true when occupants are not wearing their seatbelts at the time of a collision, as the crash may result in them being thrown from the vehicle.

Commercial vehicle crashes. Finally, just like speed, vehicle size (mass) has a direct impact on the force that is involved in a collision. When a big rig, commercial vehicle, or another large vehicle is involved in a crash, the smaller vehicle–and those within–are often catastrophically harmed.
All of the accident types listed above are preventable, and almost always are the result of acts of driver error and negligence.
How Can an Experienced Car Accident Attorney Assist You After a Fatal Car Accident?
Many times the medical expenses from a fatal car accident are extremely high, and a hospital will apply  a medical lien. Liens are attached to a personal injury claim, providing a hospital with the ability to claim a percentage of a settlement or verdict claimed from the negligent party or their insurance company. A lien is typically sent as a notice to the person who received treatment. An experienced car accident attorney will often be able to get these liens reduced. Claimants who desperately need a settlement often think that they must accept losing most of it to a hospital lien. However, this is not always the case with the help of an experienced car accident lawyer. 
An experienced car accident attorney will also be able to assist in location all sources of recovery. They will be able to locate ALL insurance policies and be able to effectively deal with these companies in order to maximize your compensation. In addition to this, they will be able to gather additional evidence that bolster your claim, which in turn maximizes your compensation. Finally, by reviewing the evidence an experienced attorney can help to determine if there were multiple parties involved or if there were additional causes that results in the fatal accident, which can be pursued for compensation.
After a fatal accident, surviving family members will face a number of economic and noneconomic costs, including pain, suffering, funeral and burial costs, medical expenses incurred prior to death, estate-related costs, loss of companionship, and more. A family member who has lost a loved one surely wants to be compensated for these losses.
In order to ensure that your right to your full compensation award is preserved, it's important that you take certain steps as soon as possible after a car accident that results in your loved one's death. An experienced car accident attorney is vitally important in gathering this information and helping you to properly maximize your compensation. These steps include:
Request a copy of the police report;

Request copies of your loved one's medical reports – you will need to prove that death would not have occurred but for the car accident;

Gather any evidence related to the car accident, such as photos of the vehicles involved, witnesses' statements, video footage, event data recorder information, cell phone logs (if you think the at-fault driver was distracted at the time of crash), and more;

Start calculating the various economic damages you have suffered, including funeral and burial expenses, probate expenses, medical costs, and the value of your loved one's lost wages and earning abilities.
What Does the Insurance Say?
In the majority of fatality lawsuits, the biggest limitation is the insurance coverage. Many times the insurance coverage is not as high as one may think. An experienced attorney will be able to assist you in analyzing the defendant's personal assets and dealing with their insurance in order to help maximize your claim. However, reaching a settlement with an insurance company isn't always easy; insurance companies are interested in saving the company money, and may reduce a claimant's settlement as such. A lawyer can review your claim and negotiate your settlement, helping you to maximize the amount of compensation available.

In a few seconds, a tragic car accident collision can occur, ending the life of someone forever. Those who survive are often left with questions about the future, not to mention grief and psychological harm, as well as financial concerns. During these times hiring a wrongful death attorney to assist you will alleviate some of the financial burden and stress of knowing what are the right steps to take when dealing with a fatal car accident.

Contacting Us

If you would like to speak with an experienced car accident attorney, please call our law offices today at any of our convenient locations and get a free consultation.

Arlington (817) 522-4451
Dallas (972) 362-6848
Fort Worth (817) 764-1375
Plano (972) 354-4602
Cedar Hill (972) 338-9427
McKinney (469) 522-3688
Lewisville (972) 354-4605
Frisco (972) 725-7681
Grapevine (817) 835-8677
Irving (972) 354-4610
Keller (817) 204-0904
Garland (214) 572-2251
Denton (940) 222-4060
Addison (972) 564-8108 
You can also contact us online by using our quick contact form.