Are you unsure whether to file a personal injury or wrongful death suit? There are several things that these two types of suits have in common. Both of them can be filed after oversight, negligence, or intentional malice on the part of one person causes pain, suffering, and injury to another person.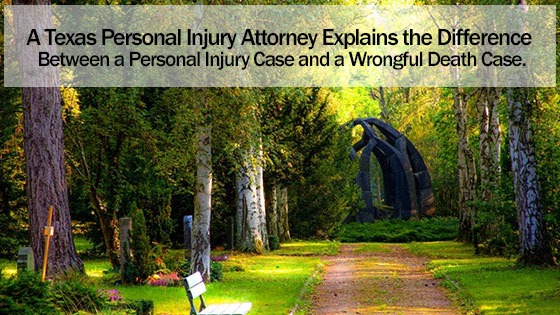 However, beyond the fact that both suits can be filed in the wake of serious negligence, there are important differences that you need to take note of. These differences can be broken down in detail so that you will know exactly what kind of suit to file. It's an excellent idea to contact a personal injury attorney in order to gain more insight into these differences. Retaining the services of an experienced personal injury attorney is highly recommended to receive a positive case result.
What is the Definition of a Personal Injury Claim?
A personal injury claim is a legal action that needs to be filed by the person who has suffered injuries. This claim will be filed in response to actions by another party that caused their injuries. These actions are judged to be negligent or intentionally hostile.
The point of filing a personal injury claim is for the person who suffered these injuries to receive due compensation. This compensation can take several forms, including – but not limited to – the following:
Compensation for medical expenses
Compensation for lost wages, whether in the recent past, present, or future.
Compensation for the pain and suffering you have had to endure.
Punitive damages that are designed to punish the wrongdoer for their negligence.
When you make a personal injury claim, you need to be able to prove that your injuries were due to negligent actions on the part of the person or company you are accusing. The ultimate amount of the compensation that you receive will depend on the extent of the injuries that you suffered.
What is the Definition of a Wrongful Death Claim?
A wrongful death claim will be made by the survivors of the person who died. This claim will be filed against the person who is believed to be responsible. The point of filing such a claim will be to receive compensation in several different ways. These ways can include, but may not be limited to, the following:
The total cost of medical expenses.
The loss of future earnings.
Financial support, including such matters as educational assistance for any surviving children.
Compensation for the loss of care, comfort, and companionship on the part of the surviving spouse.
What Can a Personal Injury Attorney Do to Help You?
When it comes to deciding whether to file a personal injury or wrongful death claim, you will need to call upon expert legal assistance. This is not the kind of claim that you can take lightly. You need to know exactly who to charge with negligence. You also need to have full documentation of the negligence or intentional malice that you are accusing the person or company.
A personal injury attorney is the person who will help you file your claim. They will then represent your case in a court of law. Your lawyer will help you prove that the negligence you allege really happened. They will also help you withstand the hostile questions of the opposing attorney so that you will not accidentally negate your own testimony or accidentally incriminate yourself.
The time to make your claim is now. You need to get closure for your suffering. Get in touch with us today to learn more about what an expert personal injury lawyer can do on your behalf.
Contact a Personal Injury Lawyer for More Info
If you have a personal injury or wrongful death case in Texas, call our law offices today at any of our convenient locations and get a free consultation.
Arlington (817) 522-4451
Dallas (972) 362-6848
Fort Worth (817) 764-1375
Plano (972) 354-4602
Cedar Hill (972) 338-9427
McKinney (469) 522-3688
Lewisville (972) 354-4605
Frisco (972) 725-7681
Grapevine (817) 835-8677
Irving (972) 354-4610
Keller (817) 204-0904
Garland (214) 572-2251
Denton (940) 222-4060
Addison (972) 564-8108
You can also contact us online by using our quick contact form.