Bicycle accidents on the road are more frequent than most people think. The National Safety Council (NSC) reports that there were over 930 accidents that involved bicyclists in 2020, resulting in the rider's death. If you or a loved one got injured in such an accident, it is best to retain the services of an experienced bike accident attorney.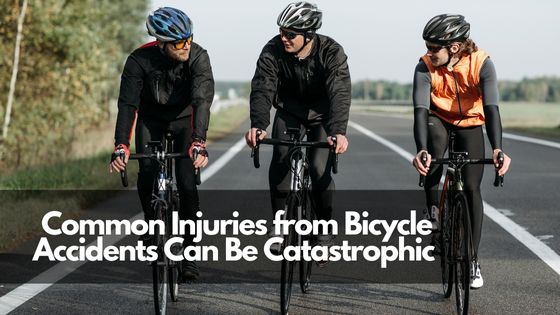 Negligence as a Crucial Factor
Road safety experts have observed that many bicyclists do not follow road rules. Remember that road safety is also a community effort. This means everyone sharing the road can contribute to everyone's safety.
Bicyclists can help by riding on designated bicycle lanes if they are available. Most major cities in the United States are building these bike lanes to improve the safety of cyclists. Another way to ensure their safety is using hand signals when they turn or make other maneuvers on the road. If you were involved in an accident, an expert bicycle accident lawyer could help determine if there was negligence on the part of the people involved.
Common Bicycle Injuries
Most bicycle accidents cause injuries to cyclists in their upper and lower body extremities. In many instances, these injuries tend to be minor:
Fractures

Contusions

Strains

Lacerations

Abrasions
A road crash involving one or more bicycles often leaves only minor abrasions. However, in more severe injuries such as contusions and fractures, accident victims may experience other symptoms, such as:
Bruising

Swelling and related injuries

Difficulty moving

Body pain

Inability to move certain body parts
Whether you think you suffered minor or major injuries, it's best to seek immediate medical attention. Cyclists have very minimal protection when they are on the road. Any impact by motorcycles, cars and other vehicles can cause serious injuries.
A seasoned bike accident attorney can help you document physical injuries you may have suffered. Property damage can also be included when gathering evidence. These professionals can also help you get appointments with medical practitioners familiar with bicycle accidents.
Head and Neck Injuries
It's highly recommended that bicyclists wear a helmet when they ride. Head trauma often occurs in 22 to 47 percent of bicycle accident victims. Note that head injuries are often severe and can be considered significant injuries. Over 60 percent of fatal bicycle injuries involve head trauma.
Next to head trauma are neck injuries. However, neck injuries in bicycle accidents rarely occur compared to other injuries.
Traumatic Bicycle Injuries
The most common traumatic injuries sustained during a bicycle crash include:
Contusions

Skull fracture

Concussions

Cranial hemorrhage
Injuries in this category include any injuries to the face and dislocations of the joints. Other injuries that can be included in this category include dental fractures, broken ribs, hernias, renal contusions, pancreatic trauma and ruptured spleens. These conditions require immediate medical attention. Your bicycle accident lawyer can document these injuries and your medical expenses to help build your case.
Medical Evaluation After a Bicycle Accident
Emergency medical service providers on site will give you a thorough evaluation. They will first look for any signs of bleeding. These procedures help identify potential serious injuries that you may not realize immediately.
The on-site medical personnel will check your head and other body parts for signs of injury. They will also ask you to take deep breaths to check for punctured lungs or broken ribs. Further, they will perform spine and neck assessments and stomach checks.
Causes of Bicycle Accidents
Bicycle crashes involving motor vehicles cause 90 percent of catastrophic injuries and deaths. Some of these collisions involve the following occurrences:
A car or other vehicle cuts off a bicycle as it enters the roadway.

A vehicle rear-ends a moving bike or one that is parked with the cyclist still on the bike.

Cyclists make unpredictable or even hazardous maneuvers on the road.

A car cuts off a cyclist as it makes a right turn heading straight into a bike lane.

Cyclists were riding on the wrong side of the road.

The driver of a parked vehicle opens the door without checking, causing a cyclist to crash into the opened door.

Cyclists were riding against oncoming traffic.

A cyclist or a motorist runs a stop light and causes a collision.
The most common bicycle accidents don't involve motor vehicles. Seventy percent of the time, other factors cause injuries to cyclists:
Road debris, trees and other objects that bicycles collide into.

Cyclists were losing balance.

Cyclists collide with another bicycle rider or a pedestrian on the road.

Animal attacks, such as a dog chasing a bike.

Defective or poorly maintained bicycle parts.

Poorly maintained roadways that cause cyclists to fall off their bikes.
Work with a Seasoned Bike Accident Attorney
It's essential to determine which party was negligent in a bicycle accident. Motorists, pedestrians, clean-up crews, pet owners and other people who may be responsible for road conditions can be held accountable. A seasoned bicycle accident lawyer can help you recover the injury claims that you deserve.
Call the Law Offices of David Kohm at our convenient locations today and get a free consultation. 
Arlington (817) 522-4451
Dallas (972) 362-6848
Fort Worth (817) 764-1375
Plano (972) 354-4602
Cedar Hill (972) 338-9427
McKinney (469) 522-3688
Lewisville (972) 354-4605
Frisco (972) 725-7681
Grapevine (817) 835-8677
Irving (972) 354-4610
Keller (817) 204-0904
Garland (214) 572-2251
Denton (940) 222-4060
Addison (972) 564-8108
You can also contact us online by using our quick contact form.