What is Important to Know About a Wrongful Death Lawsuit
When someone dies from a wrongful action done by another person, it is defined as a wrongful death. When this happens, the deceased's family members could be entitled to receive compensation for their loss. They will often have to live knowing the death of their loved one would not have occurred except for the negligence of another. An experienced and knowledgeable personal injury attorney will know what is necessary to get fair compensation in regards to your wrongful death lawsuit.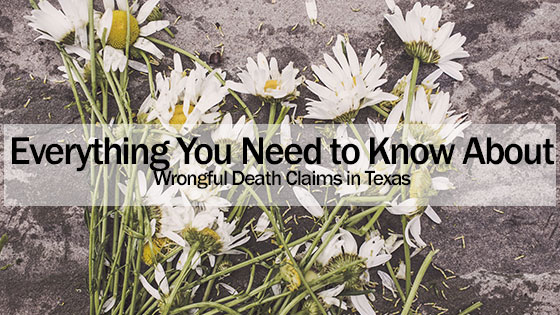 Wrongful Death Statute
A personal injury attorney in Texas knows the legal definition of wrongful death and how it applies to your case. It is the unskillfulness, wrongful act, default, carelessness or neglect actions determined to be the cause of a person's death. This is considered a civil action. There are common wrongful death claims. They involve everything from murder to drunk driving, manslaughter, car accidents as well as assault and battery. When looking for representation it is important you review the experience of your personal injury attorney and their knowledge in dealing with these types of complex cases.
Statute Of Limitations
In Texas, wrongful death lawsuits have a statute of limitations. According to state law, an individual has two years from the date the wrongful death occurs to file a wrongful death claim. The time limit could be extended in the cause of fraud or if the plaintiff of a wrongful death lawsuit is a minor child. It could also happen if the plaintiff has a physical or mental impairment making it impossible for them to file a wrongful death lawsuit suit during the two year period. A defendant's negligence being unknown during the two year period may also provide a valid reason to extend the two year time period.
Who Is Permitted to File Wrongful Death Lawsuit
In Texas, certain criteria must be met before someone is considered to legally be a plaintiff in a wrongful death lawsuit.
*A plaintiff can be a surviving spouse.
*A plaintiff can be the deceased personal representative of the estate.
*A plaintiff can be a surviving child either minor or adult.
*A plaintiff can be a surviving birth parent
*A plaintiff can be a surviving adoptive parent
*A plaintiff can be the deceased's legally adopted child.
Wrongful Death Claim Damages In Texas
There are three broad categories of damages that could be awarded to the plaintiffs of a wrongful death lawsuit.
ECONOMIC DAMAGES –

These are damages that could involve things like loss of support, loss of earning capacity, loss of wages, medical expenses, funeral, burial expenses, loss of inheritance and more.

NON-ECONOMIC DAMAGES –

This will involve mental as well as emotional pain and suffering. It could also involve loss of companionship, loss of comfort as well as loss of consortium and more.

EXEMPLARY DAMAGES –

These are damages awarded when the behavior of the defendant is so egregious, a judge wants to make an example of them. This has been awarded in cases where the death of an individual was the result of a willful act or omission. It has also occurred when gross negligence was involved.
Establishing Negligence
One of the main legal elements that must be established in a claim of wrongful death is negligence. A person who is negligent did something they should not have done or did not do something they were required to have done. There are four different elements a plaintiff's attorney must establish.

1. Monetary damage must have happened to the plaintiffs.
2. A legal duty must have been owed the victim.
3. It must be established injuries were the result of a defendant's breach of duty.
4. It must be established a defendant breached their legal duty.
After experiencing a wrongful death, the family members will need to spend time healing. An experienced personal injury attorney can make it possible for them to not worry about getting fair compensation for their loss. The emotional scars will remain, but a successful wrongful death claim can provide a feeling of justice as well as help with closure.
Call our law offices today at any of our convenient locations and get a free consultation.
Arlington (817) 522-4451
Dallas (972) 362-6848
Fort Worth (817) 764-1375
Plano (972) 354-4602
Cedar Hill (972) 338-9427
McKinney (469) 522-3688
Lewisville (972) 354-4605
Frisco (972) 725-7681
Grapevine (817) 835-8677
Irving (972) 354-4610
Keller (817) 204-0904
Garland (214) 572-2251
Denton (940) 222-4060
Addison (972) 564-8108
You can also contact us online by using our quick contact form.