A custody arrangement dictates when one parent has custody over their child. Sometimes, however, the other parent may worry about the safety and well-being of their children. In cases where a legal guardian, legal caregiver or another parent believes their children are at risk of harm or in danger, they have the option to consult with an attorney to gain emergency custody.
What Is An Emergency Custody Order And Hearing?
The Texas Family Code establishes the obligations and rights of both parents when there is a custody dispute. However, courts have the power to set emergency orders concerning child custody. Emergency custody orders allow for parents to promptly protect their children in danger from physical, emotional and psychological harm. An experienced divorce attorney can help you understand these procedures and your legal rights in this situation.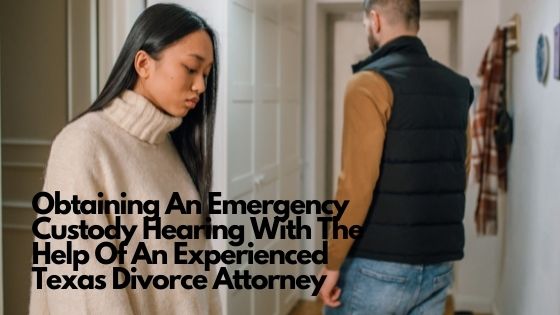 What Constitutes A Custody Emergency?
Texas Family Law Code stipulates certain criteria to file an emergency custody order. These include the following:
Lack of essential medical care

Child abandonment

Truancy

Neglect of the children

Violation of restraining orders

Living in an unsafe environment

Alcohol or drug abuse by the custodial parent

Lack of food

Homelessness
However, the court is given leeway to judge what conditions are most important for children's welfare and safety. Also, remember that when a child is threatened in any way, the other parent has the right to file a request for an emergency custody change.
The conditions above constitute potential emergencies for the child under custody. However, it isn't exhaustive, and other circumstances can be considered as well. Consult with a seasoned divorce lawyer to help you determine which conditions constitute or contribute to a custody emergency order.
Gathering Evidence For Filing A Temporary Custody
To file for temporary custody, you are required to provide evidence to the court to substantiate your request. An expert divorce attorney can help you gather evidence. The legal advice should also be obtained in case the reverse happens – you received notification that your custody rights have been altered because the court ordered a temporary custody change.
Obtaining A Protective Order
One of the options that a divorce attorney can discuss with you is a protective order. For example, if your children are exposed to family violence or there is clear and present danger towards the kids, then a protective order can be provided.
Courts can use a protective order in the following ways:
Prohibit the access of a parent. It can also prevent access of one parent or guardian to the child, especially regarding the party that has committed family violence.

Use it to prevent someone from removing the children from the possession of the parent or guardian named in the order.
Courts can issue this order without providing any notices to the other party or parent (also known as an ex parte order). Police officers serve the order and immediately transfer the child's custody to the parent named in the order. The child remains with the petitioner, and the custody will usually last a few days or until hearings can proceed. Transferring the child's custody ensures their safety, which in the eyes of the court, is in their best interest. 
Protective orders can be granted on a final basis, which occurs after a hearing or when a notice has been issued. It can have an effect lasting as long as two years. However, there have been instances where the court places a longer effective period for such an order.
Filing A Temporary Restraining Order
Courts can also issue an ex parte restraining order if they feel it's necessary to secure the safety and protection of the children. The court has the authority to do so for children who are Texas residents. However, the court can also issue restraining orders even if the child is outside of state jurisdiction, especially in cases where there is a threat of mistreatment and abuse.
A temporary restraining order will deny a parent access or possession of a child. Again, it would be best to work with a divorce lawyer since you need to provide evidence of the risk of impairment to your child's emotional or physical health. If the risk is high, the court can issue the restraining order without a hearing. The goal is to provide the child with the necessary protection as soon as possible.
Like a protective order, an emergency restraining order becomes effective once it has been issued. Parties who violate the restraining order can be held in contempt. The only downside to restraining orders is that they only last for 14 days. However, the court can adjust the order duration for another 14 days if necessary.
Serving Notices To The Other Party
You must provide the other parent or guardian with a notice after your divorce lawyer files the forms to the proper district court. It should be served to the other guardian by a third-party individual who is not a party to the case. Once the parent in question becomes aware of the hearing date and time, the notice is deemed complete or served.
Work With An Experienced Divorce Attorney
The goal in every custody case is to determine what is in the child's best interest. However, in some situations, altering the child's custody is necessary. If you need to obtain an emergency custody hearing, it will be best to work with an attorney with extensive experience.
Call the Law Offices of David Kohm today and benefit from our wealth of experience in dealing with custody cases. You can reach us at any of our convenient locations and get a free consultation.
Arlington (817) 522-4451
Dallas (972) 362-6848
Fort Worth (817) 764-1375
Plano (972) 354-4602
Cedar Hill (972) 338-9427
McKinney (469) 522-3688
Lewisville (972) 354-4605
Frisco (972) 725-7681
Grapevine (817) 835-8677
Irving (972) 354-4610
Keller (817) 204-0904
Garland (214) 572-2251
Denton (940) 222-4060
Addison (972) 564-8108
You can also contact us online by using our quick contact form.