Distracted Driving is a Common Problem in Texas
The number of people getting into accidents due to distracted drivers is on the rise. In fact, distracted driving was the culprit behind 90,000 of the accidents that occurred in Texas in 2012. The accidents resulted in 18,486 injuries and 453 deaths. According to the Texas Department of Transportation, the number of distracted driving accidents increased by 20 percent within the past year.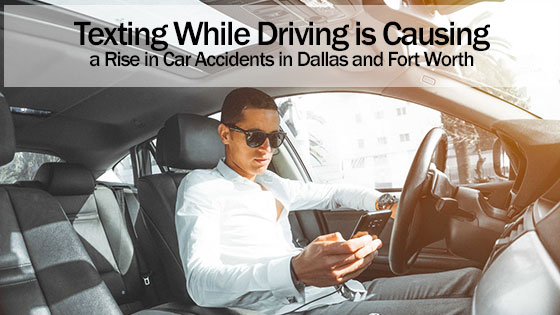 What the Law Says
Despite the fact that it is dangerous, it is legal to text and drive in Texas. Lawmakers tried to pass a law that would make texting and driving illegal in 2011. However, Governor Rick Perry decided to veto the law. He stated that there was no need for such a law because there were other laws that covered this issue. He also stated that this is a matter of personal responsibility.
There are a few laws in Texas that deal with cell phone use while driving. It is illegal for anyone who is under the age of 18 to use a cell phone while driving. School bus drivers are not allowed to use a cell phone while transporting children or driving in a school zone. Additionally, Austin, San Antonio and Arlington have banned texting and driving.
Texas is currently one of only seven states that allows people to text and drive.
Why it is so Dangerous to use a Cell Phone While Driving
People who use a cell phone while driving are eight times more likely to be involved in an accident. Drivers often take their cell phone off of the road for several seconds while they are drinking. Even if a person only takes their eyes off of the road for two seconds, they double their chances of being involved in an accident.
It is also important to note that it is dangerous to use a touch screen or voice-based features while driving. People who use this technology are often distracted for over 40 seconds.
How Common is the Problem?
Most people are well aware of the fact that texting while driving is dangerous. However, they still choose to do it anyway. Half of drivers have admitted that they have sent or read a text message while they were driving. Eight percent of drivers do not believe that texting while driving is any more dangerous than talking on the phone. Most drivers do not believe that texting while driving should be banned.
Texting While Driving is Even More Dangerous For Teens
It is dangerous for everyone to text and drive. However, teenagers are even more likely to get into an accident if they text and drive. Fifty-nine percent of the teens who get into an accident were distracted in some way. Twelve percent of them were using cell phones at the time.
There are a number of reasons that teen drivers are at a greater risk for getting into an accident. Teens think it is possible to multitask. However, studies have shown that the brain is only able to focus on one thing at a time. Teens are also more likely to engage in other dangerous behaviors such as not wearing seat belts, speeding and following too closely.
Contact a Car Accident Attorney
If you have been hurt in an accident because someone was texting and driving, then you may be able to get compensation. You may be able to receive funding for your lost wages, pain, suffering, property damages and medical bills. You need to call the Law Offices of David Kohm if you want to file a claim.
You should contact our offices today to get a free consultation. You can reach us at one of the following numbers.
Arlington (817) 522-4451
Denton (940) 222-4060
Dallas (972) 362-6848
Fort Worth (817) 764-1375
Cedar Hill (972) 338-9427
McKinney (469) 522-3688
Lewisville (972) 354-4605
Frisco (972) 725-7681
You can also contact us online by using our quick contact form.