A fatal car accident is a truly tragic event. But, even though a wrongful death attorney can't bring your dearly departed back, you can get all the legal help to take action against the driver at fault. In addition, your lawyer can help you understand all the legal options available.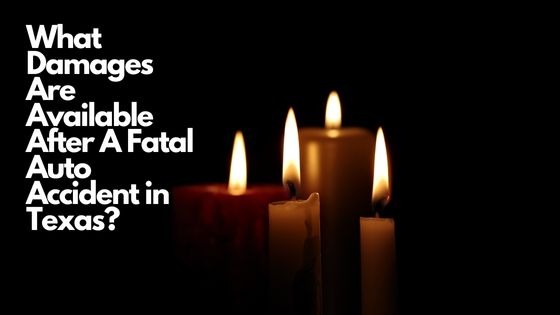 What Constitutes a Wrongful Death in Texas?
According to the Texas Department of Transportation, one person was fatally wounded in a car crash in the state every two and a half hours in 2019. These incidents often lead people to ask what constitutes a wrongful death.
Texas law states that certain conditions would define a wrongful death, which include the following:
Some injuries caused the person's death.

Injuries sustained by a fetus that prevented live birth.

The injuries were caused by another person's carelessness, default, unskillfulness, neglect or any other wrongful act.

The injured person would have been able to file a lawsuit against the party at fault had the individual survived.
During such a trying time, family members will need invaluable legal advice from an experienced wrongful death attorney. Your lawyer can handle all the legal affairs while you concentrate on mourning your loved one. You can then get back to the litigation process after.
What is a Wrongful Death Claim?
When you get injured due to another person's negligence on the road, your car accident lawyer will help you file a personal injury lawsuit, which will help you recover damages from the driver at fault. But this isn't the case for a fatal car accident since the victim can no longer file the suit.
Given that situation, an experienced wrongful death attorney will help family members of the deceased to file a wrongful death claim. It's a civil law that allows the family members of the car accident victim to file a suit against the party at fault. This lawsuit can be filed against individuals, government agencies and companies.
Under Texas law, there are only a few people who can be allowed to file this claim:
The parents of the deceased.

The children of the car crash victim.

The surviving spouse.
According to this law, the deceased's grandparents and siblings aren't allowed to file this lawsuit. However, family members of the departed who are permitted to file the suit can file it individually or jointly.
If the deceased has an executor, that individual can file the case if the departed's family members aren't allowed to do so. They are only allowed to file the suit three months after the victim's passing. An executor is a personal representative and administrator overseeing an individual's estate upon death.
If you're unsure whether or not you are entitled to filing a wrongful death claim, it is best to work with an experienced car accident lawyer. Your attorney can provide sound legal advice, including how to file the claim, gather evidence and work through litigation.
When you file a wrongful death claim, you're doing so for and on behalf of the deceased. Therefore, you are responsible for providing evidence of the other driver's guilt or negligence.
Statute of Limitations
The statute of limitations in Texas sets the filing of a wrongful death suit within two years after the victim's passing. This is the maximum amount of time family members can file a lawsuit. There are rare exceptions to the statute of limitations, but it is best not to rely on them. Instead, you should seek expert legal advice and file a suit as soon as possible.
Damages That Can Be Recovered in a Wrongful Death Claim
An award after a wrongful death claim is a significant benefit to the family members dependent on the victim of a fatal automobile accident. According to Texas law, the amount in damages is designed to compensate family members for losing financial support.
If the negligence of the driver at fault is proven, the victim's family members can seek compensation for the following:
Any pain and suffering damages.

The funeral and burial expenses.

If a child experiences a loss of love and care.

If there is a loss of consortium and companionship.

Any losses in projected earnings and income.

Any medical costs for past treatments.
In cases where the driver at fault is guilty of a willful omission, act, or gross negligence (i.e., the driver intentionally harmed the victim), punitive and exemplary damages can also be filed. These damages are not to compensate surviving family members but to punish the guilty party.
When the court awards you or your family for the wrongful death of your loved one, the money that you recover can never be subject to any debt claim. This means debtors of the victim who passed away are not allowed to collect any sum from the money awarded by the court.
How Damages are Divided Among Family Members
The amount awarded to family members will be divided in proportion to the injury or suffering they experienced due to the victim's untimely death. Either the judge or the jury typically determines the ratio of the award. The judgment will be based on extensive testimony provided by family members.
Work With a Seasoned Wrongful Death Attorney
The death of a loved one after a fatal car crash robs family and friends of the time they could spend together. With the help of an experienced attorney, you can pursue a wrongful death claim and win the compensation you and your family deserve.
Call the Law Offices of David Kohm today at any of our convenient locations and get a free consultation.
Arlington (817) 522-4451
Dallas (972) 362-6848
Fort Worth (817) 764-1375
Plano (972) 354-4602
Cedar Hill (972) 338-9427
McKinney (469) 522-3688
Lewisville (972) 354-4605
Frisco (972) 725-7681
Grapevine (817) 835-8677
Irving (972) 354-4610
Keller (817) 204-0904
Garland (214) 572-2251
Denton (940) 222-4060
Addison (972) 564-8108
You can also contact us online by using our quick contact form.