Buses are a necessary component of any city's transportation network. Of course, our children ride them to go to and from school. We might depend on them to get to and from work, but buses are also chartered for groups attending events, getting to and from airports or even interstate travel. Regardless of how inexpensive and convenient that riding on a bus might be, they might become a hazard to passengers, pedestrians, bicyclists and drivers of other motor vehicles. If you have been injured in any type of bus accident, you will want to retain an experienced and effective bus accident attorney right away.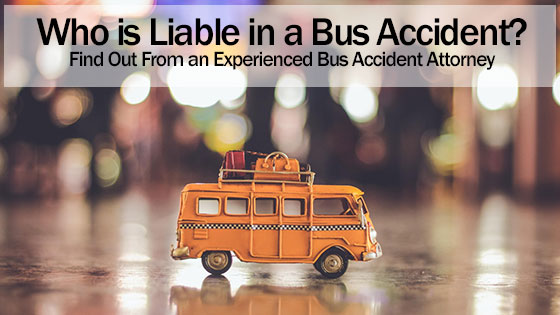 Common Causes of Bus Accidents
No matter how you were hurt in a bus accident, there is common thread that runs through all of them. That is the bus driver's duty to transport his or her passengers safely while also using due care and caution for the safety of anybody else who might be on or near the roadway. Buses must be maintained, and drivers trained in accordance with that duty. Here are some common causes of bus accidents:  
Driver negligence like speeding or failing to yield the right-of-way.
Driving too fast for weather or traffic conditions.
Driving a bus that is too tall to travel under a bridge.
Drowsy or fatigued driving.
Driving under the influence of alcohol, drugs or both.
Driving with inadequately maintained brakes or tires.
Negligence of Other Drivers
Bus crashes can also be attributable to the negligence of the drivers of other vehicles. Bus passengers have little or no visibility ahead of the bus, and most buses are not equipped with seat restraint devices. Many designers rely on the seat ahead of passengers to keep them from being thrown about in a crash. Those are ineffective should a bus roll-over, and passengers can even be ejected from the bus itself.
The Common Carrier Duty
Since the owners and operators of bus companies charge a fee to travel on their buses, they are regulated at the federal, state and municipal levels. Although the regulations might be confusing, bus companies that charge passengers a fee must operate with the highest degree of care and caution for the safety of their passengers. A breach of that duty coupled with injuries or fatalities can be considered negligence. An experience bus accident attorney can help navigate through the complexities of bus accidents.
School Buses
Keep the fact in mind that if your child is injured in a crash involving a school bus, other Texas laws might be triggered. Pursuant to the section 101 of the Texas Civil Remedies and Practices Code, in the event of a catastrophic injury or a death, strict damages limits might apply. Depending on what governmental entity that you might be intending on suing, you must also provide written notice of intent to sue to the proper official at the proper agency on a timely basis. The time limit might be as short as 45 days with a maximum of six months. Any defects in the notice can cause a perfectly legitimate lawsuit to be forever dismissed.
As soon as you retain us in a Texas bus accident, a bus accident attorney from the Law Offices of David Kohm will immediately commence an investigation into the accident that you or your family were involved in. We're excellent investigators and respected litigators. Rather than give any type of a statement to the owner or operator of the bus that was involved in the crash, contact our offices and arrange for a free consultation and case evaluation. Call our law offices today at any of our convenient locations and arrange for that free consultation.
Arlington (817) 522-4451
Dallas (972) 362-6848
Fort Worth (817) 764-1375
Plano (972) 354-4602
Cedar Hill (972) 338-9427
McKinney (469) 522-3688
Lewisville (972) 354-4605
Frisco (972) 725-7681
Grapevine (817) 835-8677
Irving (972) 354-4610
Keller (817) 204-0904
Garland (214) 572-2251
Denton (940) 222-4060
Addison (972) 564-8108
You can also contact us online by using our quick contact form.