Bus accidents can often be far worse than a typical fender bender. Since buses have numerous occupants in them and are much larger than an average passenger vehicle, the likelihood of injuries is greatly increased. If you or a loved one have been involved in a bus accident it is important that you contact a bus accident attorney immediately to help maximize your claim. So what happens when you have been involved in a bus accident.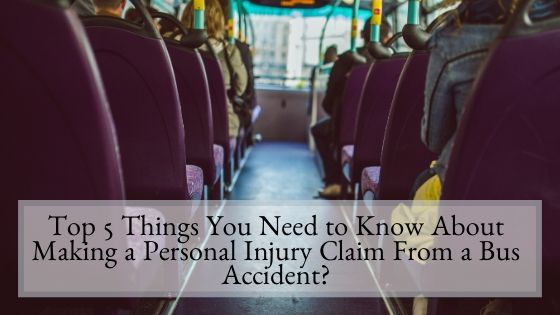 Here are the top five things that you need to do:
Call a Bus Accident Attorney

– You may be disoriented and injured, but if you are able getting advice from a legal expert immediately, you can avoid a number of pitfalls that may damage your case. Even if your case seems to be relatively straightforward, you will likely face opposition from the bus driver's insurance company. More than that, you may miss out on compensation from liable parties you didn't identify, such as the bus driver's employer, the bus manufacturer, or even the city for a poorly designed street layout or highway defect. When you retain a legal advocate who understands this area of law, you can be confident knowing that no stone will be left unturned and maximum financial recovery will be achieved in your case.

Get Medical Care

– The sooner you can get to a safe spot and get medical care for your injuries, the better. No matter how severe or minor your injuries are, it is important that you go to the hospital or medical provider. An experienced bus accident attorney will be able to direct you to the proper medical professionals who deal with accident victims on a regular basis. These professionals will be able to administer the proper tests and document everything properly to help maximize your case.

Call 911 and Get Witness Statements

– Call 911 and take the

time to report the accident to the police to ensure that a police report is filed. While the bus driver will likely be reporting the accident to authorities and their supervisors, don't simply assume they will. If you are able to do so, call the police right after the accident for immediate help. Tell them what happened in detail to ensure your side of the story is on record. You can also find other witnesses who were on the bus or nearby when the accident happened. If they have any additional insight, it is good to take their information down.

Gather Evidence

– Take pictures of the accident scene if you are able to. This can greatly help with courtroom evidence down the road. Try to capture as much of the collision and the surrounding areas as possible, including stoplights, traffic signs, skid marks, and any other helpful evidence. You should also try to get evidence and statements from witnesses, as mentioned above. Your bus accident attorney can also assist in obtaining video evidence that you may not know was available. Their experience can help you maximize your claim.

Document Your Injuries, Receipts and Bills

– Any damages related to the bus accident should be kept organized and safe. Make sure you collect all receipts, bills, and other records that may help you determine the financial damages you suffered due to the collision. This includes visits to your doctor, physical therapy sessions, gas bills for driving to and from the hospital, repairs to your vehicle, and any other additional costs you endured because of the accident. An experienced

bus accident attorney

can help you track everything that is important to help you maximize your claim.
If you need a bus accident attorney, then you should call our law offices today at any of our convenient locations and get a free consultation.  
Arlington (817) 522-4451
Dallas (972) 362-6848
Fort Worth (817) 764-1375
Plano (972) 354-4602
Cedar Hill (972) 338-9427
McKinney (469) 522-3688
Lewisville (972) 354-4605
Frisco (972) 725-7681
Grapevine (817) 835-8677
Irving (972) 354-4610
Keller (817) 204-0904
Garland (214) 572-2251
Denton (940) 222-4060
Addison (972) 564-8108 
You can also contact us online by using our quick contact form.