More and more, passengers on buses are filing personal injury lawsuits after suffering injuries after bus accidents. This is the case with both commercial and public transport buses alike. If a person is a passenger on a bus and the bus gets into a collision, it can have devastating results. However, as an injured passenger, it's important to know what your rights are and how to ensure that the bus driver or even the bus company is liable. This is why it is extremely important to retain the services of an experienced bus accident attorney.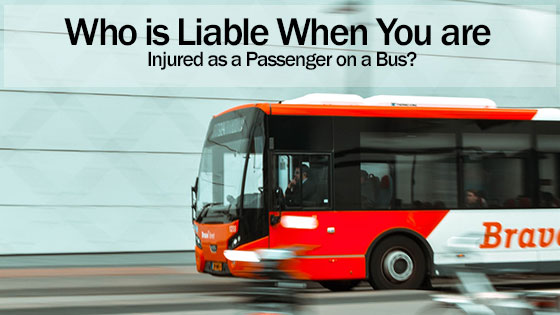 When is the Bus Company Responsible?
In general, the bus company is responsible for the proper maintenance of its buses. It is also responsible for hiring drivers who are competent and fully qualified to drive them. The buses must be in good working condition and any defects that are discovered must be fixed so as to avoid a potential accident while the bus is in operation to prevent injuries to passengers. Determining whether the bus company is liable may require the legal knowledge of a bus accident attorney. After reviewing the accident evidence, an attorney should be able to provide you legal advice on how you should proceed and who the liable party may be.
When is the Bus Driver Responsible?
A bus driver has a huge responsibility in ensuring that all of their passengers are safe at all times. If the bus driver behaves irresponsibly while behind the wheel, such as using a smartphone while driving or driving while intoxicated, it can easily lead to a crash. At the same time, in some situations, an accident might not occur as a result of negligence on the part of the driver.
For instance, if the bus driver has been working long hours without a break or is on a prescription medication that leaves them feeling fatigued or drowsy and has an accident, it would not be considered negligence. Other scenarios where the driver may not be negligent include poor weather conditions or hazardous road conditions. Identifying the responsible party in a bus accident can be complex, so if you or a loved one have been injured in a bus accident, seek legal advice from an experienced bus accident attorney.
When is the Bus' Design or Mechanics the Problem?
Sometimes, a bus accident may be due to a problem with the mechanics or even the design of the bus. This is not the fault of the bus driver. If the bus has defective components that result in an accident, passengers can suffer injuries.
Accidents can also occur due to poor maintenance of parts of the bus, such as the tires or doors. Additionally, safety equipment malfunctioning can result in injuries as well. In these scenarios, the bus company could be held liable for passengers' injuries.
When Should an Injured Party Seek Compensation?
If you were a passenger on a bus and sustained injuries after that bus got into an accident, you have the legal right to pursue a personal injury claim. You deserve to receive compensation for your medical expenses, ongoing treatment, lost wages and any other damages you may have suffered. If you choose to go this route, it's important to hire a skilled bus accident attorney to represent you and present strong evidence that you suffered damages as a result of your injuries. If your case is strong enough, you may even be able to recover compensation for emotional distress as well.
What Evidence is Required in a Personal Injury Claim After a Bus Accident?
In order to be successful in a personal injury case, your bus accident attorney will have to provide evidence to the court. Anything pertinent to proving that you have suffered damages both medically and financially is required. This includes the following:
Medical records

: Your medical records are some of the strongest pieces of evidence proving that you have suffered the injuries you claim as a direct result of the bus accident.

Medical bills

: All medical bills related to the emergency and ongoing care for your injuries should be presented, especially if you have any out-of-pocket expenses that your insurance didn't cover.

Proof of lost wages

: Your employer should provide you with a letter that states your salary, the number of hours you work during any pay period and how much time you have missed work due to your injuries.

Copy of police report

: You should obtain a copy of the police report taken at the scene of the bus accident. This can serve as strong evidence of the incident that led to your injuries.

Witness statements

: Witnesses can be integral to a personal injury claim. Their statements can be used in proving what took place during the accident.
If you have a bus accident case in Texas, call our law offices today at any of our convenient locations and get a free consultation.
Arlington (817) 522-4451
Dallas (972) 362-6848
Fort Worth (817) 764-1375
Plano (972) 354-4602
Cedar Hill (972) 338-9427
McKinney (469) 522-3688
Lewisville (972) 354-4605
Frisco (972) 725-7681
Grapevine (817) 835-8677
Irving (972) 354-4610
Keller (817) 204-0904
Garland (214) 572-2251
Denton (940) 222-4060
Addison (972) 564-8108
You can also contact us online by using our quick contact form.